In a surprising move this morning, Activision has released a press release giving us the supposed release dates of a couple of variants as well as some official information regarding store exclusivity.
To save you from having to read through the entire press release, here are the highlights:
NOTE: All dates, times, and locations below are given with the US in mind. They may vary in other countries.
Jingle Bell Chompy Mage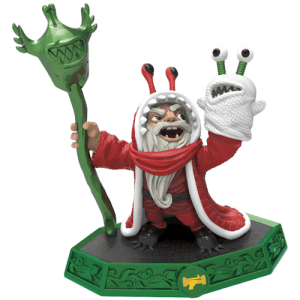 Jingle Bell Chompy Mage is set to release on November 25th (Black Friday) and will not be exclusive to an store (as expected).
Available at participating retailers starting November 25, 2016, Jingle Bell Chompy Mage is a specially designed toy that appears in the game outfitted in a holiday-inspired wardrobe. He joins the lineup of Sensei Skylanders new to Skylanders Imaginators and is ready to teach the Skylanders some new fighting techniques and a classic Chompy holiday tradition — the White Chompy gift exchange! After all, 'tis the season to be Chompy!
Portal Owner's Pack
The Portal Owner's Pack will be exclusive to Walmart.
The Portal Owners Pack will be available exclusively to Wal-Mart shoppers for a limited time during the retailer's Black Friday event, which starts at 6 p.m. local time on Thanksgiving, November 24 (price valid through Friday).
Not sure if we should read into the phrase "for a limited time", but I suppose it is worth noting.
Mystical Bad Juju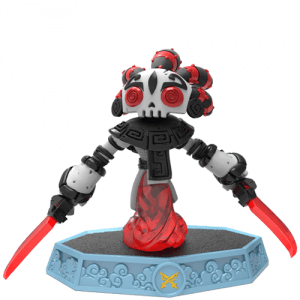 Finally, Mystical Bad Juju is confirmed to be a GameStop exclusive which should release on December 17th.
Additionally, Skylanders fans can participate in Skylanders Day at all GameStop locations nationwide on Saturday, December 17, and Sunday, December 18. Skylanders Day offers great deals and special promotions on select Skylanders Imaginators and Skylanders SuperChargers products, including the GameStop exclusive debut of the Skylanders Sensei Mystical Bad JuJu figure.
It seems odd to have an entire Skylanders Day (or Weekend) focusing on one store exclusive variant.
So while December 17th is a bit later than many of the rumored dates that have been flying around, I have to wonder if this is when Wave 3 is supposed to release. Just some food for thought.