This is something we don't usually get a lot of directly from Activision, but it is nice to see. In their latest press release they give us some solid dates for a few upcoming releases.
Eon's Elite
The first three Eon's Elite figures were Toys R Us Exclusives.
The second set of three Eon's Elite figures will be available at all major retailers eventually, but Toys R Us managed to get an Early Release of these figures on November 29th.
So if you absolutely can't wait to get your hands on these figures, then Toys R Us is the place to be. However, these figures should be available soon after in other stores.
Missile-Tow Dive-Clops
We've known about Missile-Tow Dive-Clops for a while now, but this is the official announcement. This is the Christmas variant Skylander this year.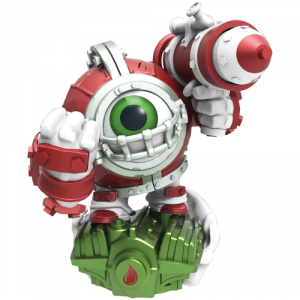 According to the press release, this will be a Timed Exclusive at GameStop (and EB Games). In Europe it will be available in "late November" and in the US starting on December 2nd.
No word on how long the Timed Exclusive will last, but I would guess that it's not more than a week or so because they will want to give other retailers time to sell the figure before Christmas as well.
Other News
The press release also goes on to mention a number of other items, but they don't really give specifics.
For instance, they mention that the Sky Action Pack (non-Legendary) is coming, but they don't give a date.
They mention that Starter Packs will be available for $39.99 at participating retailers on Black Friday, but I'm pretty sure I've seen some lower prices already.
And they also mention that Eruptor will be joining the Macy's Thanksgiving Day Parade again this year. So if parades are your thing, enjoy.