We're just over a week away, so it's time to get prepped for Day 1 of Skylanders Imaginators.
Day 1 Checklist (Shopping List)
More than any year in the past, Day 1 is going to have a lot to offer Skylanders fans.
As usual, I have compiled a one page, printable PDF checklist to aide you in your endeavors.
This list is as complete and up-to-date with the information we currently have. However, I have a few notes about this list, so please keep on reading.
Skylanders Imaginators Day 1 Checklist (Shopping List)
Creation Crystals
The Creation Crystals have not been spotted for preorder anywhere yet. However, stores seem to be getting more than enough to choose from.
I'm still collecting details on the distribution of the Crystals, but here's what we found out last night.
I highly recommend following SCL on Twitter to get all the latest Skylanders Imaginators info.
Candy-Coated Chopscotch
She has been spotted physically at TRU, but I believe she is also in the GameStop system.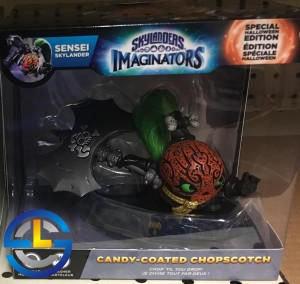 So it appears it should be at multiple (or all) retailers immediately, but there's a small chance TRU could have a timed exclusive.
Imaginite Mystery Chests
These are not necessary to play or complete the game.
They will help you unlock the parts to create your Imaginators faster.
They are sold in blind bags so there's no way to tell what you're getting. Each Chest (Bronze, Silver, or Gold) will unlock 9 items in the game. Better Chests will unlock more rare items.
Wave 2
Over the past week I've seen multiple images of Wave 2 merchandise showing up at Target, Walmart, and TRU locations.
Once this initial stock sells out though, I wouldn't expect the Wave 2 figures to be replenished until the true Wave 2 release date a few weeks from now.
Amazon
Now that Wave 2 seems to be hitting the other retailers, Chompy Mage is the only figure exclusive to Amazon. Chompy Mage is only available in this bundle.
With that being said though, Amazon's bundles offer a small discount off the standard retail price and a great discount if you're a Prime member.
While I understand the thrill of hunting down the toys physically in the store, I greatly enjoy the discounts Amazon provides and I like knowing that I am guaranteed to get the figures I'm looking for.
Recap
It looks like Wave 1 and Wave 2 are expected to come out on Day 1 in most locations.
There should be a decent stock of both from the numbers I've seen so far. However, I would not expect Wave 2 to get replenished immediately.
Finally, keep an eye on the store exclusives. You will have to make a few stops if you're looking to pick up one of everything.