If you've ever visited Amazon.com, you have probably seen something about Amazon Prime, but do you actually know what Amazon Prime is?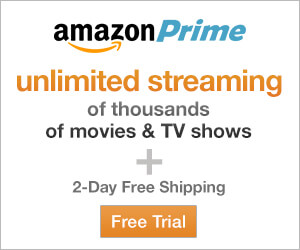 I joined Amazon Prime about six months ago. I took advantage of the 30-Day Free Trial which allowed me to send my brother his birthday gift with Free 2-Day Shipping.
During the remainder of the 30-Day Trial I explored the other main feature of Amazon Prime. With a Prime membership you also get free access to thousands and thousands of movies and TV shows. I have been a longtime Netflix member, so this appealed to me. For just $79 per year (about $6.59 per month) I could have my entertainment needs covered plus free shipping.
Amazon Prime is cheaper than Netflix and cheaper than Hulu Plus (another Netflix alternative), so I decided to give it a shot.
So Why Is This Good For Skylanders Fans?
As many of you know, the Skylanders stock on Amazon can come and go very quickly and it is very sporadic. Over the past few months, I've been filling in a few holes in my collection and Amazon has been able to help me.
Normally though I only find one figure at a time. Since each figure only costs $10 or $15, they don't usually qualify for the general free shipping that Amazon offers because there is a $25 $35 minimum purchase. With Amazon Prime, that minimum is completely removed. In addition, you are upgraded from the usual 5-8 day shipping and receive free 2-day shipping (you can also get 1-day shipping at a discount).
So, no, it might not be worth it just for the free shipping, but when I combine it with the Unlimited Streaming entertainment, it is completely worth it.
One More Feature…
There is actually a third feature of Amazon Prime that I, unfortunately, cannot use. However, if you own a Kindle, this is definitely for you.
With Amazon Prime you also get access to hundreds of thousands of books absolutely free. They refer to it as borrowing books. You can only have access to one book at a time, but you can change books as often as you like. It's really like a gigantic digital library.

So next time you're visiting Amazon.com, just keep an eye out for the Amazon Prime logo you see above. I think you'll be amazed at how much you can get with a membership.