Big news from Amazon this week is that they have added another item to their ever-increasing list of Amazon Prime benefits.
New 20% Discount
Amazon Prime members can now enjoy a 20% discount on all pre-ordered video games as well as games purchased within two weeks after the original release date.

So how does this help you?
Well, just like Best Buy's Gamer's Club Unlocked (GCU) program, this discount extends to all Toys-to-Life figures. This is clearly noted on the pre-order pages shown below:


However, as I stated in the headline, this is just one step closer to competing with Best Buy's GCU.
What Makes GCU Better?
GCU gives you a 20% discount on video games and toys-to-life figures at any time. Amazon Prime's 20% discount is limited to pre-orders and two weeks after release.
GCU allows you to stack the 20% discount on top of any current sales they are having. Amazon Prime gives you the lower price between the current sale and 20% off the regular price.
GCU costs $30 for 2 years (or $15 per year, but you have to buy in 2 year increments). Amazon Prime costs $99 for one year (although there is a sale this weekend for $73 per year).
What Makes Amazon Prime Better?
Amazon Prime is not just a video game discount program like GCU. There are a host of other benefits that come along with it.
Free 2-Day Shipping (with no minimums)
This is by far my favorite benefit of Amazon Prime. This means that when you find an amazing deal, like Smash Hit for $5.95 (as of this writing), you can order the single item, have it in hands two days later, and not pay a penny for shipping.
No more adding items you don't really need or want to your order to hit the $35 minimum for free shipping. You can order what you want, when you want, and take advantage of awesome deals.
Amazon Prime Video
You get access to a large library of movies and TV shows.
In my opinion their overall selection does not compare to Netflix or Hulu, but they still manage to have a few exclusive items. So when I can't find something appealing to watch on Netflix, it's nice to have Amazon Prime as a backup.
Amazon Prime Music
This is an often overlooked feature of Amazon Prime, but they offer a large selection of music (both new and old) which is available to stream whenever you'd like.
You can find just a small sample of the selection in the picture below: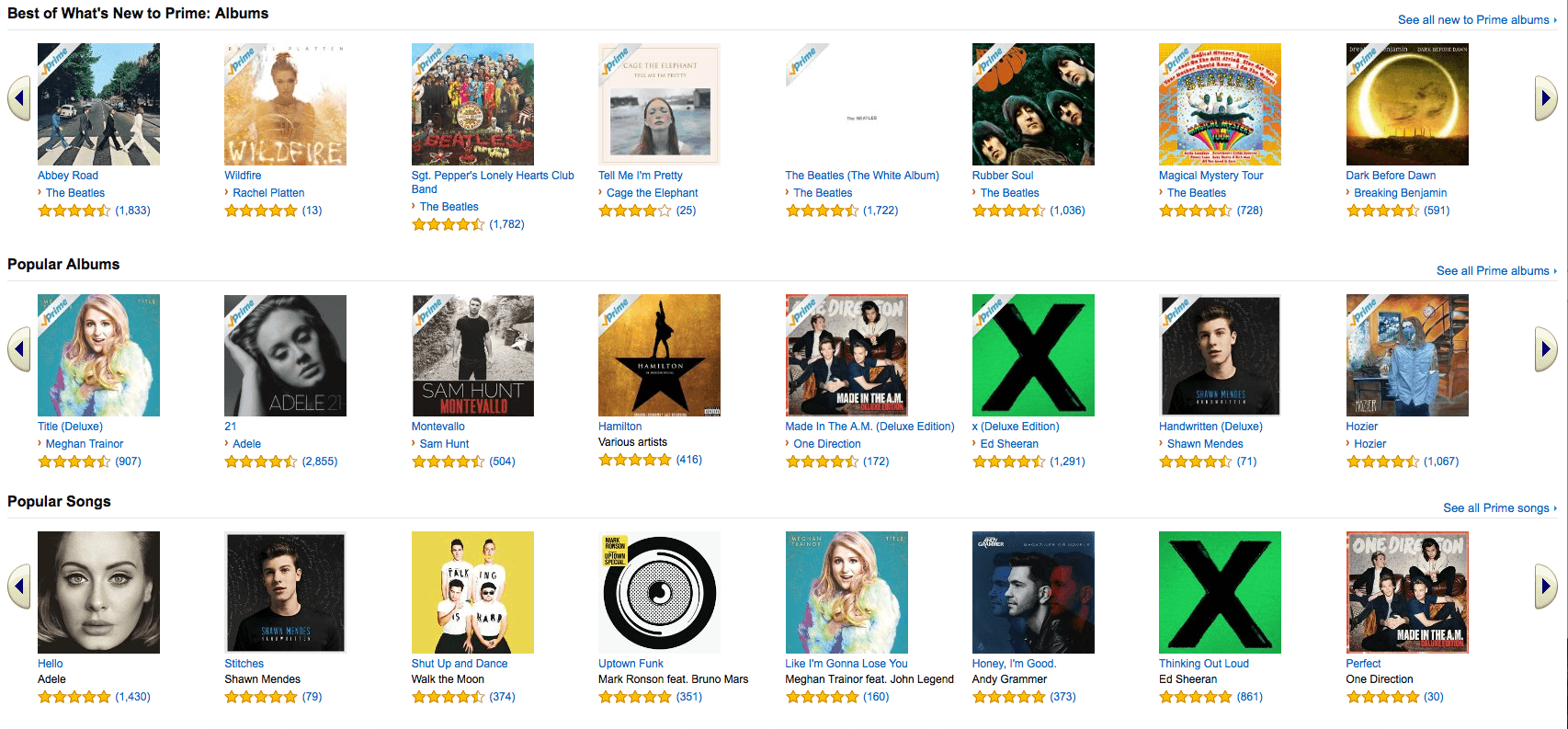 Amazon Prime Photos
Another newer benefit of Amazon Prime is free photo storage.

This is not something I've used personally because I don't take a lot of pictures, but I could see it coming in handy if I did.
Kindle Owners' Lending Library
Have a Kindle? Like to read?
Well with Amazon Prime you have access to millions of titles. This is another feature I have not used personally (because I don't own a Kindle), but I have heard good things about it.
Other Discounts
Finally, it's not really something they can advertise, but over the past two years (as long as I've been an Amazon Prime member) I've noticed many Prime-Exclusive discounts and offers.
It's impossible to predict what they'll be or when they'll pop up, but it's nice to see that they're trying to take extra special care of their Prime members.
Wrap Up
As I mentioned briefly above. Amazon Prime will be on sale this weekend from 9PM PT on Friday through 11:59PM on Sunday for just $73.
If you only shop for video games on Amazon, then this probably isn't for you (but I would still suggest you look into GCU). But if you regularly shop on Amazon, then the new 20% discount could be a nice addition and you might want to consider picking up a membership during the sale this weekend.