WARNING: THIS ARTICLE CONTAINS SPOILERS!
Thanks to TrueAchievements.com we were able to get a preview of the Trophies associated with the upcoming Skylanders Imaginators.
As usual this list gives us some information about the game, but it also leaves us with a few more questions and/or concerns.
The Levels
From the trophy list it appears that there are a total of 10 levels in the main campaign.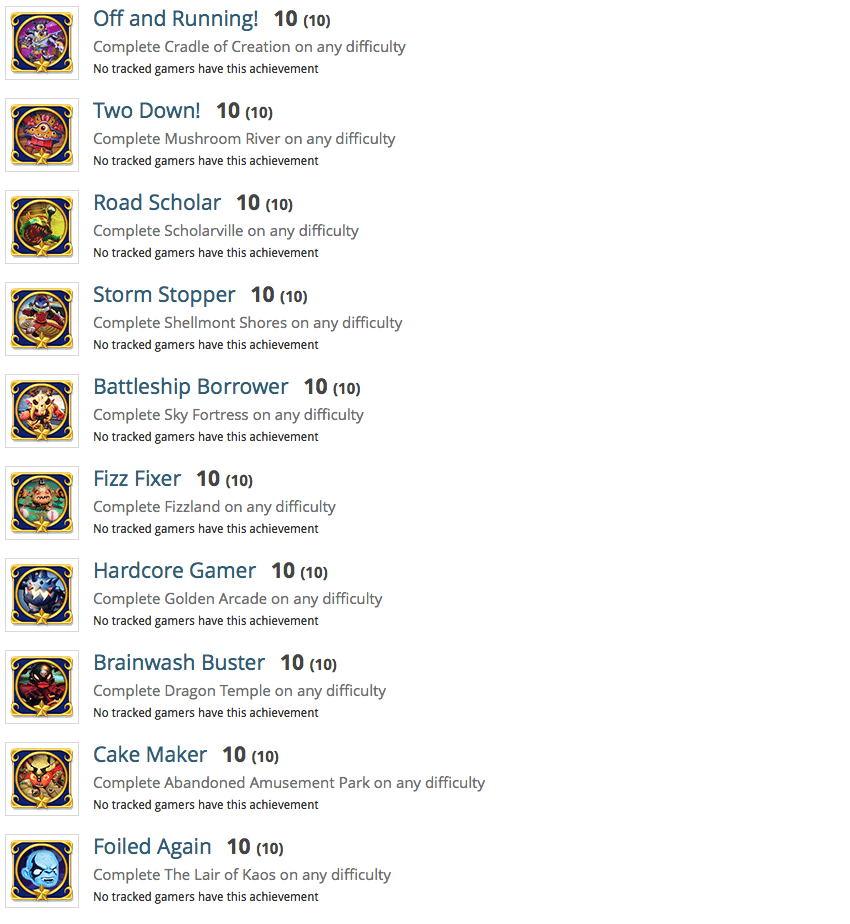 Now I know that 10 seems like a small number, but I am still expecting plenty of content to be packed into these levels.
In recent years, the levels have been quite lengthy.
When I was making Trap Team walkthrough videos, each level took 30-60 minutes to complete if I wanted to collect everything.
In SuperChargers levels were so long they decided to split them up into multiple chapters and include checkpoints so you could just replay a specific portion of a level.
So the fact that there are only 10 levels in Skylanders Imaginators does not really worry me too much.
In addition to getting a trophy for simply completing each level, there are trophies for completing a specific task or challenge in each level.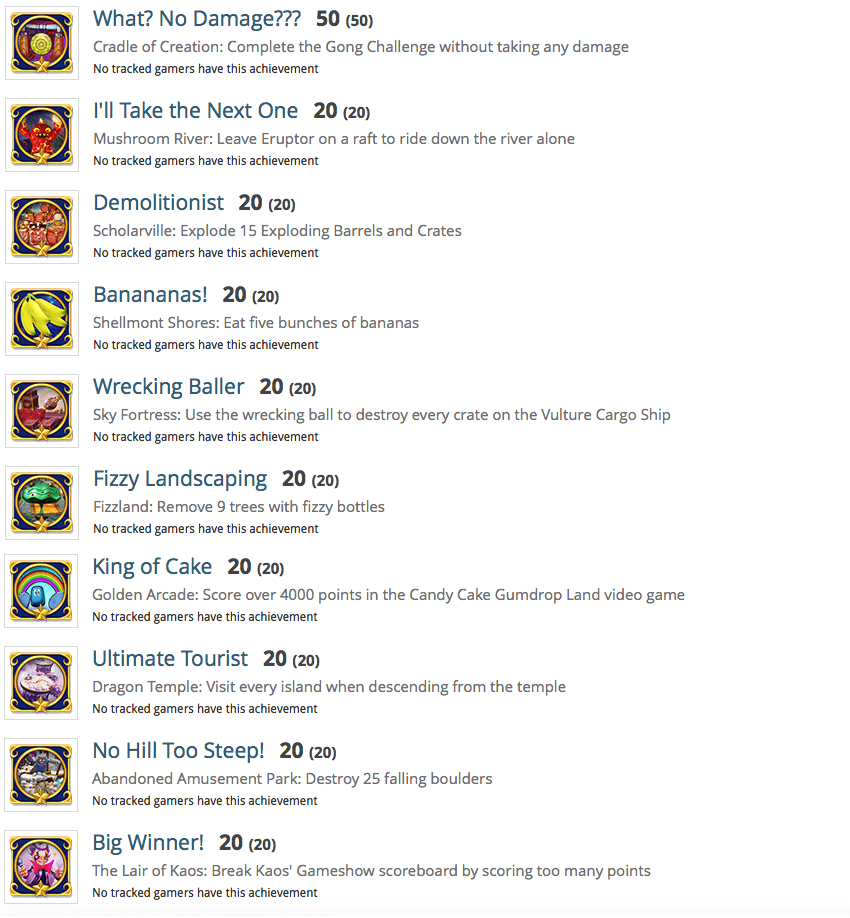 While these trophies don't tell us a lot, they do give us a little glimpse of what each level might look like or center around.
There are definitely a handful of challenges in this list catch my attention.
Finally, there is a trophy for completing the main campaign (Story Mode) on any difficulty setting…

It does seem a little odd that there's no trophy for completing the game on Nightmare Mode this year as this has been a standard trophy in almost every Skylanders game thus far.
Mini Games
If you've played a Skylanders game before, you should be used to little mini games being thrown into the levels.
This year is no different.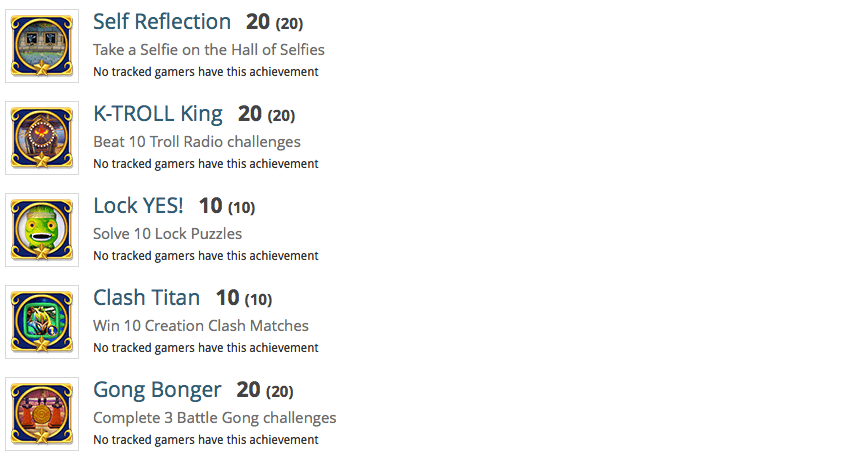 Selfies
A new addition this year is the ability to take selfies of your character.
This fits in perfectly as many people will want to show off their new creations. Now you can showcase them in a selfie.
Troll Radio
Troll Radio is back this year, but this time it has a purpose.
After completing a brief mini game, the Troll Radios will reward you with more items to help you customize your Imaginators.
Lock Puzzles
It just wouldn't be a Skylanders game with some form of lock puzzle.
As usual, the lock puzzle have gotten a slightly updated look and will have a few new obstacles and challenges to deal with, but overall they'll feel quite familiar.
Creation Clash
While this may sound like something completely new, that's mostly just in the name.
Creation Clash is the name of this year's Skystones game.
We haven't seen this in action yet so we don't know exactly how it plays or what differences there are, but you should be familiar with the basics.
Battle Gong
This is a new challenge in Skylanders Imaginators.
After striking the gong you will be locked in a sort of arena where you will need to defeat all the enemies (or be defeated by the enemies) before you can continue on in the level.
Objective Stars
The level objectives are back and I couldn't be happier!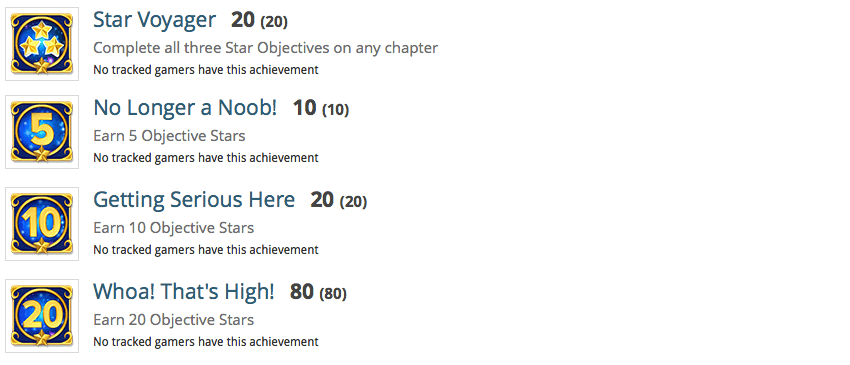 I've seen some of the objectives in a few videos/screenshots and it's everything you would expect from the first four games.
For those of you who played SuperChargers, you know they went in a different direction and just focused on the vehicles. But this year we're back to the objectives.
Imaginite
While there are many ways to collect all the different parts to customize your Imaginators, one of the main ways is by collecting Imaginite Chests throughout the levels.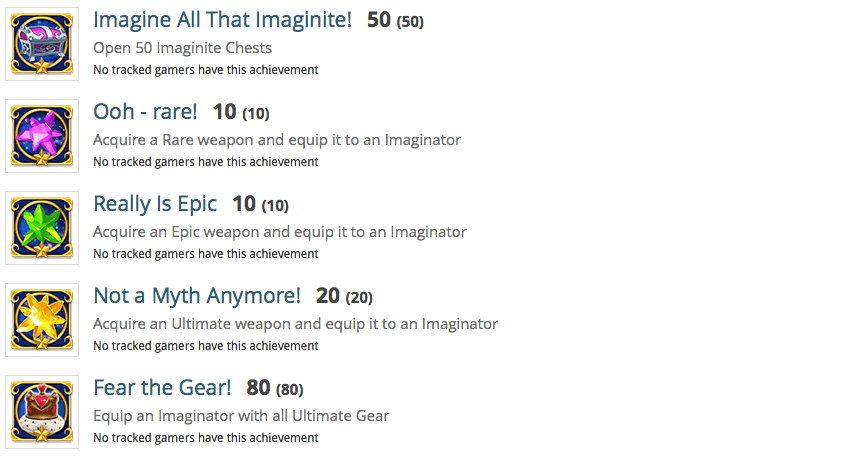 I had originally reported that Skylanders Imaginators was going to use rarity levels including: Common, Rare, Epic, and Mythic.
This seemed a bit confusing after they just came out with a card game (Skylanders Battlecast) that employed the rarity levels of: Common, Rare, Epic, and Ultimate.
Now I don't want to be that guy and say that I was the sole reason for this apparent change, but I will say this was an issue I brought to the producer's attention during my E3 interview.
In any case, I'm very glad to see that there will be some consistency across the brands.
Adventures
Perhaps the most puzzling set of trophies are these three that reference Adventures.

First of all I will clear up that these do not reference the Adventure Packs for two reasons:
1) According to the official guidelines for trophies, all of these trophies must be attainable with just the base game (in the case of Skylanders, just the Starter Pack). You cannot require any additional purchases to complete the base set of trophies.
2) We already know the names of two of the Adventure Packs and they do not line up with any of the names in these trophies.
Regardless of what these Adventures are, it's exciting to see the names of seven more areas mentioned.
I think bodes well for post-game content.
Miscellaneous
Once again it appears there will be some sort of elemental zones that can only be accessed by certain character. Not a big surprise here.

Not sure if they're reference a literal or figurative rabbit hole here, but either way it could be fun to discover.

I think we can now officially confirm that the Sensei Level Cap will not increase. We've been sitting at Level 20 for the past two games and that seems plenty high for now.

The Sensei Shrines are something you will stumble across naturally. This is where your Sensei will be able to learn their unique Sky Chi abilities.