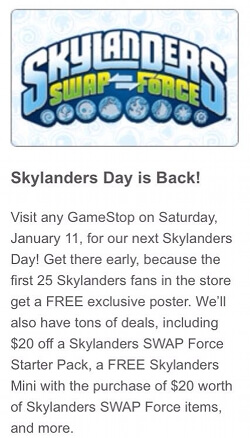 This Saturday, January 11th, GameStop is hosting another Skylanders Day. I don't like to give these days a lot of hype because myself as well as many of you have been let down by GameStop in the past. However, this GameStop event does provide one rather unique opportunity that I don't think you'll find anywhere else.
Without further ado, here are the basics:
Free Skylanders Poster to the first 25 customers
Free Skylanders Giants Sidekick with $20 purchase of SWAP Force items
$20 off SWAP Force Starter Packs
Additional Discounts and Trade Offers
I do not know what Skylanders Poster this is, but they are advertising it as an exclusive poster, so that could be fun.
It has been confirmed that the "Skylanders Minis" are in fact the Skylanders Giants Sidekicks. These figures were available for a short time this past summer as a part of a Frito Lay promotion. So this is you second (and probably final) chance to get your hands on these figures unless you want to buy them from someone on eBay.
The Skylanders Giants Sidekicks include:
Sidekick Barkley
Sidekick Eye Small
Sidekick Mini Jini
Sidekick Thumpling
That's all the information I have at this time. If you have any more questions, I would suggest that you call or stop by your local GameStop. Make sure they are aware of the upcoming Skylanders Day and discuss any questions you may have.
Good Luck!