The deals found on this page were for Black Friday 2013. For the Back Friday 2014 deals go here.

—
Every year Black Friday gets just a little more complicated and confusing. With just one week to go, a little planning can go a long way. So if you're interested in Skylanders I hope this will make it a little bit easier for you.
Below you will find all the Skylanders Black Friday deals that we know about. This article will be updated as necessary.
Store hours, prices, and availability may vary by location. Check with your local store and local ad for details.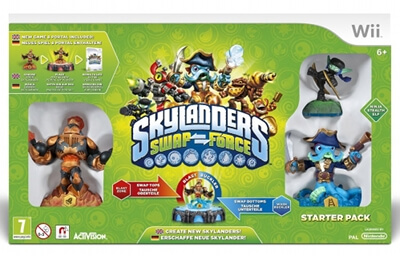 Walmart (Click for full Black Friday Ad)
Starting 6PM November 28th
SWAP Force Starter Pack – $38.96
Target (Click for full Black Friday Ad)
Doors open at 8PM November 28th
All Skylanders Characters and Accessories – Buy 2, Get 1 Free
Best Buy (Click for full Black Friday Ad)
Doors open at 6PM November 28th
SWAP Force Starter Pack – $49.99 each
SWAP Force Single Character Packs – Buy 2, Get 1 Free
Toys R Us (Click for full Black Friday Ad)
From 5PM – 9PM November 28th
SWAP Force Starter Pack – $37.49
SWAP Force Single Character Packs – Buy 1, Get 1 70% Off
From 5PM November 28th – November 30th
All Skylanders Giants and Spyro's Adventure Figures – Buy 1, Get 1 Free
Wii U SWAP Force Starter Pack Bundle (with Gold Wash Buckler) – $259.99
From 5AM November 29th – November 30th
SWAP Force Starter Pack – $49.99
K-mart (Click for full Black Friday Ad)
From November 28th – November 30th
SWAP Force Starter Pack – $49.99
SWAP Force Triple/Adventure/Battle Packs – $19.99
SWAP Force Single Character Packs – Buy 2, Get 1 Free
GameStop (Click for full Black Friday Ad)
Only on November 29th
SWAP Force Starter Pack – $49.99
From November 29th – December 1st
Wii Dark Edition SWAP Force Starter Pack – $79.99
Wii U SWAP Force Starter Pack Bundle (Plus $25 GameStop Gift Card) – $299.99
Sam's Club (Click for full Black Friday Ad)
Starting 7AM November 29th
SWAP Force Starter Pack – $37.98