It's that time of year again. We're less than two weeks away from Black Friday so it's time to go over the deals.
It really feels like most retailers have found their sweet spot and we're starting to see the same prices every year.
Below I will cover the deals for:
Walmart
Best Buy
Target
Toys R Us
GameStop
Amazon
Many of the deals will look very similar to each other, but I hope you'll take a few minutes to look over them all to get the big picture.
Walmart
Check out the full Black Friday ad here.
Doors open at 6PM on Thursday.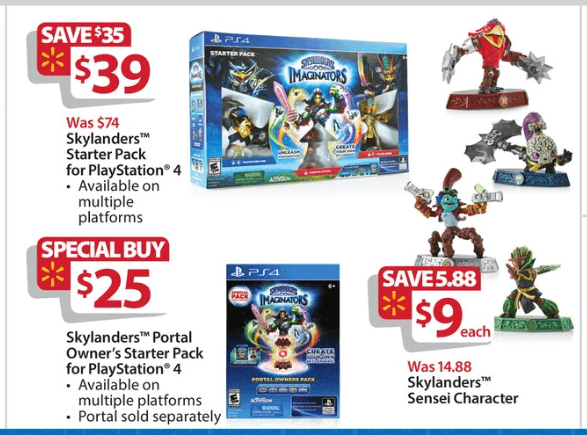 Walmart's offerings are pretty simple this year, but there was one surprise:
Starter Pack – $39
Portal Owner's Pack – $25
Sensei Single Pack – $9
The Portal Owner's Pack came out of nowhere and Walmart seems to be the only store carrying it. We know it comes with the game and a Fire Reactor Creation Crystal, but that's all we know.
Target
Check out the full Black Friday ad here.
Doors open at 6PM on Thursday.
Target also decided to give us a bit of a surprise.
Best Buy
Check out the full Black Friday ad here.
Doors open at 5PM on Thursday.
Not wanting to be completely left out, Best Buy managed to get their hands on a minor exclusive with the Combo Packs.
Starter Pack – $39.99
Combo Pack – $19.99
Sensei Single Pack – $9.99
These prices don't impress me all that much because with Best Buy's GCU, I can get close to or even meet these prices any day of the week. I don't need to deal with Black Friday.
However, it is worth noting that you cannot stack your GCU discount with the Black Friday discounts (new rule this year).
Toys R Us
Check out the full Black Friday ad here.
Doors open at 5PM on Thursday.
On the other hand, Toys R Us decided to try something different this year. They are only putting the Imaginators Starter Pack on sale Thursday evening. However, they are the only retailer to have a sale on Creation Crystals.
Starter Pack – $37.49 (ONLY available Thursday 5PM-Midnight)
Creation Crystal Single Packs – 3 for $20
Sensei Single Pack – $9.99
It will be interesting to see if their strategy pays off.
GameStop
Check out the full Black Friday ad here.
Believe it or not, GameStop also managed to put a little twist on things.
Starter Pack – $44.99 (PLUS free DVD of Skylanders Academy Episode 1)
Sensei Single Pack – $9.99
They're charging a little more for their Starter Pack, but they're trying to sweeten the pot by including a free DVD of the first episode of Skylanders Academy.
For those of you who don't know, the entire first season of Skylanders Academy is currently available on Netflix. (Now if this was a Skylanders Academy Holiday Special on DVD…you've got my attention.)
Amazon
Finally, we come to Amazon.
Amazon is hard to report on because they don't put out a Black Friday ad and they don't abide by typical retailer sales "rules".
However, in the past few years Amazon has shown that they will match or sometimes even beat the other major retailers' offers.
The catch is that they put them up as Lightning Deals. So there is a limited supply and a limited amount of time to take advantage of the offer.
Personally, I love shopping on Amazon because you can get the same great deals without the hassle of driving around from store to store, dealing with crowds of crazy shoppers, and waiting in long lines.
Naturally though it can also be frustrating not knowing what will be on sale or when it will be on sale. But don't worry, I got your back!
As I have done in past years I will be keeping my eye on Amazon all weekend looking for all the Skylanders deals I can find. As soon as I find them (or shortly before they go live), I will let you know about them via the SCL Twitter feed.
I know not everyone follows me on Twitter, but it is definitely the fastest way for me to get the information out.
So even if it's just for one weekend a year I highly recommend that you follow @sclmatt on Twitter.