I know that a few of you have already gotten into the Skylanders comic books. I haven't personally, but I've only heard good things about them.
So, if you're curious, today (Saturday, October 31st) is your lucky day.
IDW (the publishing company behind the Skylanders comic) is taking part in Halloween ComicFest. This means that if you have a participating store near you, you can pick up a free Skylanders mini-comic and join in the fun.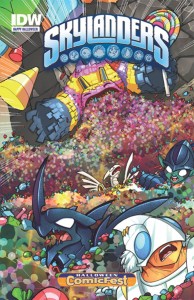 This year you'll be in for a special treat as the mini-comic focuses on Pain-Yatta. Your favorite candy-themed villain from Skylanders Trap Team.
Enjoy!