So if you've been following along with all the latest news, you probably know that the Wave 3 Swappers as well as Sheep Wreck Island and Arkeyan Crossbow are in stock on Amazon.com.
Now when I say IN STOCK, I do not mean they are being sold by third party dealers that jack up the prices. I mean that Amazon itself is selling them at retail price. However, you need to keep a few things in mind:
1) Amazon's site is updated constantly.
2) Massive amounts of people have been impatiently waiting for weeks for these products.
Basically what I'm saying is that these figures will appear as "In Stock" quite frequently and intermittently over the next few days until the supply meets the demand. If you see something you want in stock, you must act quickly. These figures can sell out in a matter of seconds.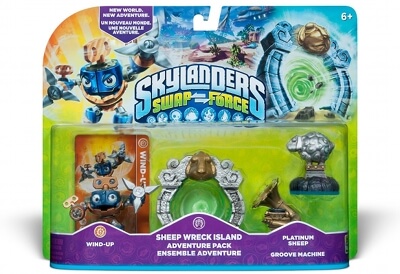 As of January 7th we have seen the following Wave 3 items in stock on Amazon:
Rubble Rouser
Spy Rise
Stink Bomb
Sheep Wreck Island Adventure Pack
Arkeyan Crossbow Battle Pack
But that's not all. We have some even better news. The entirety of Wave 3 (including Swappers, Cores, LightCores, Battle Packs, and Adventure Packs) have been spotted at Toys R Us in New York and New Jersey.
UPDATE: Wave 3 has also been found in Texas, Tennessee, Iowa, and Colorado. All reports point to Toys R Us. So if you're looking for Wave 3, check out your Toys R Us now!
While we usually get first sightings from the west coast, it seems like the east coast won this time. So far these reports have been limited to Toys R Us, but if you find them at other stores, please let me know.