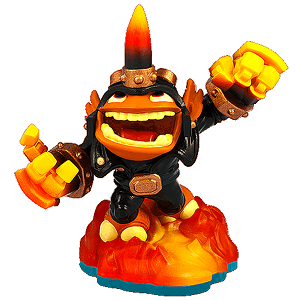 I put update in quotes because I'm not really sure how much information you can really glean from this news, but at least you'll know what I know.
———
In the past listings on Amazon sites outside of the US have been a good indicator of upcoming Waves.
This week, Amazon UK put up listings for a number of unreleased figures including:
Freeze Blade
Trap Shadow
Fryno
Scratch
Turbo Jet-Vac
Fire Bone Hot Dog
While this would normally seem like good news, I urge you to keep reading…
Don't Get Too Excited…
In the midst of the Toy Fair news this week, this article would seem to contradict the Amazon listings.
Instead of releasing large groups of Skylanders figures in waves like the company has done for past releases, Activision has already planned a staggered release schedule for figures slated to launch this year, Activision's Glenn Oliver told Polygon…

…Activision will sprinkle its freshly-minted and coveted little critters throughout 2014, releasing them to the public in small groups every few months or so. The current group contains five figures — including new Swap Force characters Fryno and Punk Shock with five more slated to hit "later this spring," according to Oliver.
If the current group only contains five figures, then there has to be something wrong with the Amazon listings. This article also states that Punk Shock will be included, which was not in the Amazon listings, unless they were referring to the Spring/Easter Edition which is listed on Amazon UK.
———
Would Activision really abort their typical Waves 4 and 5 for a new release schedule?
I believe they would. They already shook things up this year by not announcing the new Skylanders game at Toy Fair. I think it's reasonable to believe that they might revise their figure release schedule as well.
While we are certainly getting closer to the release of new figures, it is still difficult to know what to expect or when.