Just one day ago, Skylanders Imaginators was announced. Along with this announcement we were told that the Dark Edition would be making another appearance this year.
As evening approached, GameStop was the first to put up a listing allowing us to pre-order the Dark Edition.
This year the Dark Edition will include:
Dark Master King Pen
Dark Golden Queen
Dark Wolfgang
Life Creation Crystal
Dark Creation Crystal
While most other retailers had listings up for the Standard Starter Pack by this point, GameStop was still the only one with the Dark Edition and things began looking a little suspicious.
Shortly after this we found our first images of the Imaginators Dark Edition on the EB Games (Australia) site.
EB Games immediately had the Dark Edition listed as an Exclusive.

Finally, GameStop revealed their ad for their upcoming Skylanders weekend and solidified the exclusivity of the Dark Edition.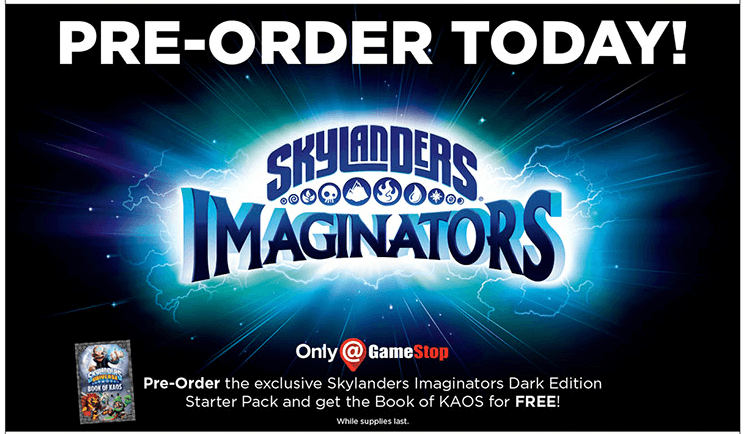 As you can see from the ad, if you pre-order the Dark Edition (at GameStop) you can also get your hands on the Book of Kaos.
Skylanders Weekend is this weekend, June 4th and 5th. A lot of good 50% off sales and all SuperChargers AND Vehicles are only $4.99!
You can find the full ad below.