The sixth and final Villain Variant is Steampunk Shrednaught.
Steampunk Shrednaught will be found in specially marked Tech Flying Helmet Traps.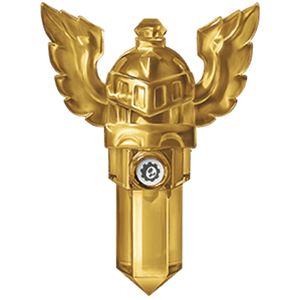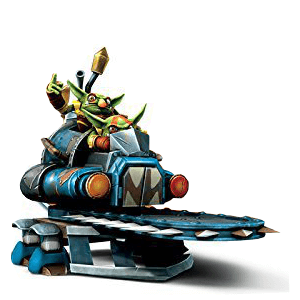 At this time we do not know when, where, or how the Trap will be released, but I will be sure to let you know as soon as I know.
In the meantime, here's a quick recap of the five other Villain Variants.
Riot Shield Shredder
Riot Shield Shredder came in a Life Torch Trap. In the US he was exclusive to the E3 Expo in June of 2014. In Europe however, he was a pre-order bonus for some while others could just purchase it in store.
Outlaw Brawl and Chain
Outlaw Brawl and Chain came in the Water Log Holder Trap. This was a Target Exclusive. It was a pre-order bonus, but the Traps were overproduced and many, many extras sat on the shelves for months afterwards. Depending on your store, you may still be able to find them on shelves.
Steamed Broccoli Guy
Steamed Broccoli Guy came in the Life Toucan Trap. He was exclusive to the Trap 8-Pack. However, the 8-Pack was available at most retailers. Target was a major source of this pack, but they also had a strong presence on Amazon. These packs sold out quickly and you are unlikely to find them in stores anymore.
Rebel Lob Goblin
Rebel Lob Goblin came in the Light Rocket Trap. He was exclusive to GameStop (EB Games in applicable countries). There were seemingly very few of these created. The stores I got reports from only got about six each. These are now sold out and I would not expect to find them again.
Red Hot Tussle Sprout
Red Hot Tussle Sprout came in the Earth Totem Trap. He was exclusive to Toys R Us. Unlike Rebel Lob Goblin, these Traps seemed to have an ample supply. Even a month after release I have still been able to find these in stores.