There have been a lot of little tidbits of information floating around for the past few days, so I'm just going to throw everything I know into this one post.
First up…
Doom Stone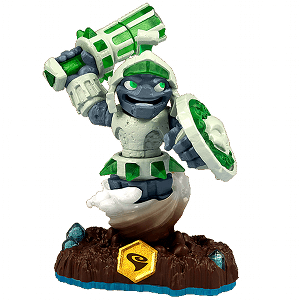 Activision is once again partnering with Toys R Us, specifically Toys R Us in Times Square, to celebrate Skylanders Day.
This event is very similar to an event we saw last year to kickoff the release of the last Giant (Ninjini).
On April 23rd, the Toys R Us at Times Square will be giving away 500 Doom Stone figures. There will also be other sales and Skylanders-related activities, but Doom Stone is definitely the main attraction.
Doom Stone Release Date
Now before you jump in your car and drive to the store let me clear something up. April 23rd is a special early release of Doom Stone. This is not the mainstream release date.
I know that many people were confused about this last year with Ninjini. Ninjini did not release nationwide until 3-4 weeks after the Times Square event.
So if they keep a similar schedule with Doom Stone, we're looking at the middle of May.
To further back up this hypothesis, Amazon.it currently has Doom Stone listed on their site with a release date of May 16th.

Nothing is set in stone yet, but rest assured, Doom Stone is coming.
Possible Skylanders 4 Title?
Looking ahead a bit further, it seems that the title for Skylanders 4 may have leaked.
A handful of foreign sites have started listing a new Skylanders Starter Pack.

Above you can see that the Skylanders Trap Team Starter Pack has been listed on Amazon.es. It currently has a release date of October 10, 2014.
We'll just have to wait and see if this is a working title or if this is the next game to add to the collection. I'm hoping that April 23rd will bring us a few more answers along with the pre-release of Doom Stone.