If you're still trying to get your hands on Wave 2 or you just don't like going to the store, I have some good news for you today.
All the Wave 2 Trap Masters and Core Skylanders and even the Mirror of Mystery Adventure Pack are in stock on Amazon!
Wave 2 Released on Amazon
NOTE: When I say they're "in stock" I mean that they are being sold directly by Amazon and therefore they are being sold at regular retail prices.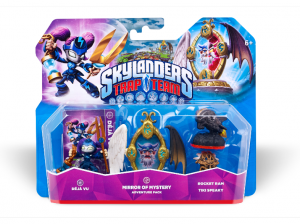 Currently you can find:
Fizzy Frenzy Pop Fizz
Full Blast Jet-Vac
Hog Wild Fryno
Mirror of Mystery Adventure Pack
Toys R Us Exclusive Release Dates
Last year Toys R Us released exclusive figures for three consecutive weeks in November.
This year they are trying something similar.
On November 2, 2014 Toys R Us will be releasing:
Legendary Deja Vu
Legendary Deja Vu Micro Comic Fun Pack
On November 9, 2014:
Legendary Blades Micro Comic Fun Pack
On November 16, 2014:
Legendary Jawbreaker Micro Comic Fun Pack
We already have some idea what the basic Micro Comic Fun Packs contain, but the Legendary Micro Comic Fun Packs are even better.
In addition to the standard contents, the Legendary Packs will include an exclusive variant Trap.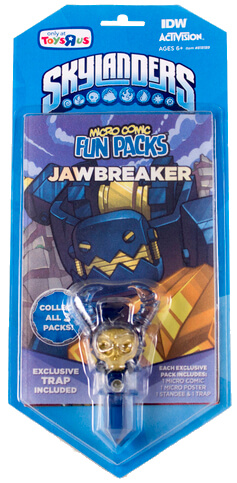 So far we have only seen images of the Legendary Undead Skull Trap. We're assuming that the other packs will contain different Legendary variants.
The Skylanders comics may not have interested everyone before, but I think adding these exclusive Traps is a good way to draw people in.
Enjoy!