The latest announcement from the Skylands brings us back to the good ol' days of Spyro's Adventure.
Over the course of the next year we will see a limited edition collection of eight Skylanders known as Eon's Elite.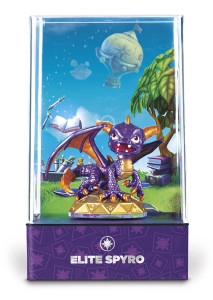 Eon's Elite features a never-before-seen decoration with a distinct, metallic finish and a golden base that sets them apart from other Skylanders toys. Each of these special edition toys will be offered in premium foil packaging and also features a display case with a 3D lenticular background. Additionally, when played in-game, Eon's Elite will be up to three times as powerful over other characters, which represents the biggest in-game boosts ever incorporated into a Skylanders toy to date.
To summarize:
New paint job on figure
Gold painted base with clear purple? plastic on bottom
They come in a display case
Up to 3x more powerful
From the images that have been shared we know that Spyro and Chop Chop are two of the eight figures to be released as Eon's Elite.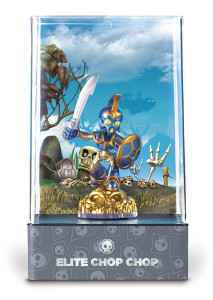 Eon's Elite characters will be available in limited quantities at GameStop and EB Games stores in North America, Australia and New Zealand, and select retailers in Europe this fall while supplies last.
We also know that Eon's Elite will be a GameStop (or EB Games) Exclusive. While an official price has not been announced, EB Games (Australia) already has them on their site for pre-order. They are charging $29.95 (AUD). If their price is accurate I think that translates to about $24.99 (USD) since that's the price they charge for Adventure Packs.
So what do you think of the GameStop Exclusive, Limited Edition, Super-Powered, Repainted, Series 1, Spyro's Adventure Skylanders (a.k.a. Eon's Elite)?