It's been a while since I've talked about Eon's Elite so I hope you haven't forgotten about them.
This week new images have been released of the third figure in the series, Elite Trigger Happy.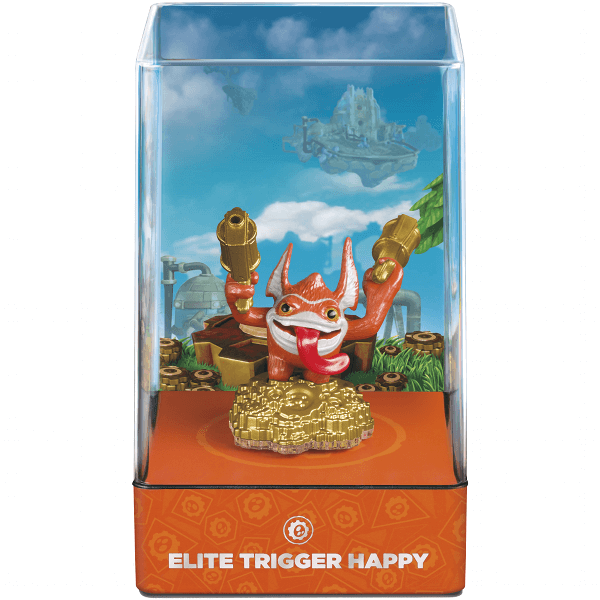 What are Eon's Elite?
Eon's Elite are a small group of the most iconic Skylanders. In total there will be eight Eon's Elite figures (one for each of the eight original elements).
The Elite figures will use their Series 1 pose, but there will be a few other changes. These include:
New paint job
Collector's Edition 3D Lenticular Display Case
Up to 3x more powerful stats in the game
Between the new paint and the display case, these figures look absolutely fantastic. It doesn't bother me at all that they reverted to the Series 1 pose.
They also come with stat card, code, and sticker. Both the card and sticker list the figure as Elite (i.e. Elite Spyro, Elite Trigger Happy). The back of the card also has the Eon's Elite logo in lieu of a particular game.
While the complete list of Eon's Elite figures has not been officially announced, we have been able to confirm the lineup through other means. Eon's Elite will include:
Elite Eruptor
Elite Gill Grunt
Elite Stealth Elf
Elite Terrafin
Elite Whirlwind
Eon's Elite Release Dates
Eon's Elite Spyro and Chop Chop are both scheduled to release on November 1, 2014.
Fans looking to pack a major villain fighting punch also will have the chance to pre-order 
Elite Trigger Happy, the third member of the limited edition toy line, for one day only on 
November 1. Elite Trigger Happy will arrive at retail on November 28.
They claim that there will be limited numbers of the Eon's Elite figures, but without actual numbers it's hard to tell just how limited they will actually be.
Where can I find Eon's Elite?
These special figures will not be available at all retailers.
Eon's Elite characters will be available in limited quantities at GameStop and EB Games stores in North America, Australia and New Zealand, and select retailers in Europe this fall while supplies last.
GameStop (USA) has a list price of $24.99 per figure. I'm not sure of the prices in other countries, but I'm sure they will be similar.
Enjoy!