The E3 Expo in Los Angeles is easily the largest and most well-known video game convention. Each year gamers around the world tune in to find out what is in store for the immediate future as well as what they can expect in the next year or two.
While there is always a ton of information to sort through and absorb throughout the industry, Activision has always used E3 as a major platform to announce a great amount of detail about their upcoming Skylanders title.
This year is no different.
So to save you some time and frustration, I have compiled everything that we've learned so far about Skylanders Trap Team at E3 this year.
Enjoy!
Skylanders Trap Team 3DS Starter Pack
Since the beginning of the Skylanders franchise, 3DS players have always had a separate Skylanders adventure to enjoy.
The story, mechanics, and Portal are all unique to the 3DS Skylanders experience. This also means that there is a special 3DS Starter Pack.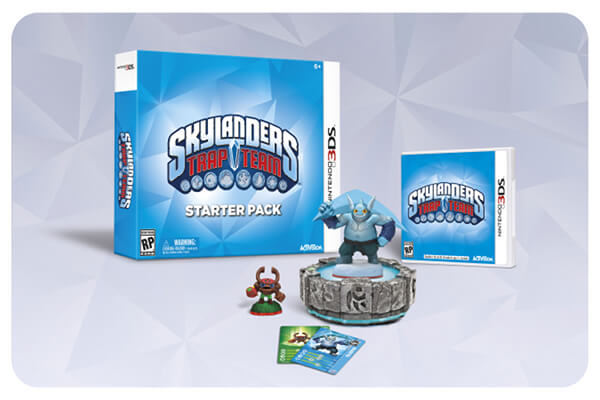 The Skylanders Trap Team 3DS Starter Pack includes:
Gusto (Trap Master)
Barkley (Sidekick)
Portal of Power
There are a number of things to note here.
First, Gusto is a new Trap Master that we've never seen before.
Second, Barkley, a Giant Sidekick is being included. Not only does he come with a Stat Card, but he has a red base. This raises a lot of questions:
Will the Sidekicks play a bigger part in Trap Team?
Will the Sidekicks have attacks/be able to level up?
Will our old Sidekicks work the same way in Trap Team or is this a "Series 2" Sidekick?
Will all the Sidekicks be made available again?
We've been wondering about the Sidekicks ever since we saw the Trap Team logo featuring Mini Jini.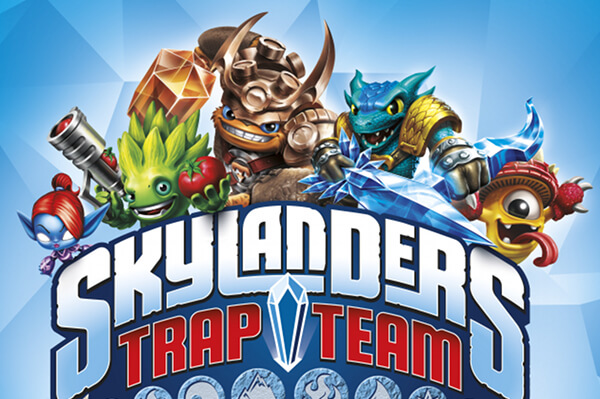 Finally, you may notice that the 3DS Portal does not have a Trap slot. It just appears to be a normal Portal of Power. You will also notice that the Starter Pack does not include any Traps.
It seems that Traps will not be a part of the 3DS version.
New Trap Masters
We have met a few new Trap Masters today.
The first was mentioned above. Gusto, an Air Trap Master, can be found in the 3DS Starter Pack.
We also met Jawbreaker, a Tech Trap Master.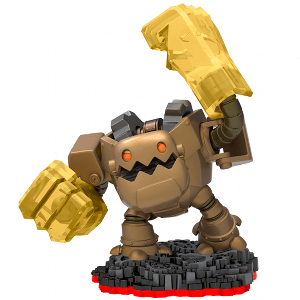 Check out the Trap Team page for more Trap Master images.
New Core Skylanders
No new Core Skylanders were officially revealed, but we did get a better look at one.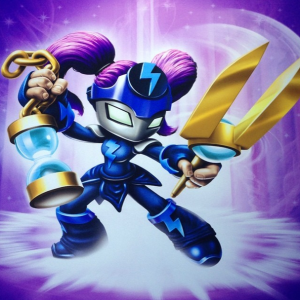 This figure was seen lurking in the shadows of the Official Skylanders Trap Team Trailer.
We still don't know her name. What do you think it might be?
New Villains
We found out about five new Villains today even though only three were really showcased at E3.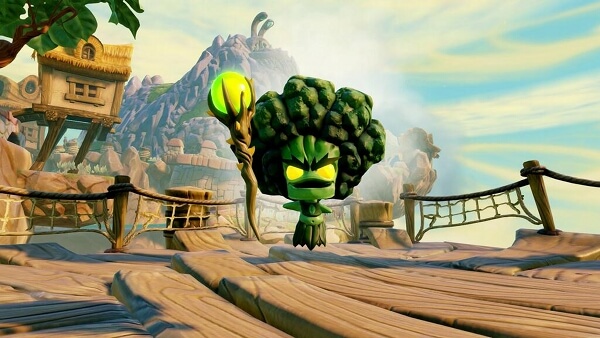 These Villains include:
Buzzer Beak (Air)
Broccoli Guy (Life)
Grinnade (Fire)
Painyatta (Magic)
Rage Mage (Magic)
Check out the Trap Team page for more Villain images.
More Villain/Trap News
There has been a major development in the "How Villains Work" arena.
It has been announced that these trappable Villains are extremely powerful. So in order to keep the Villains in check, there is actually a time limit for how long you can control a particular Villain before he needs to rest.
If you use up this time limit (30 seconds), it can be recharged within the level, but you will need to take a short break (30 seconds) from that Villain. (See video below.)
———
Villains do not have upgrade paths like the Skylanders. Instead each Villain has a Hidden Quest somewhere in the game.
If you are able to find and complete this Hidden Quest, the associated Villain will be upgraded.
———
We also discovered that Traps will be sold individually for $5.99.
Must-Watch Video
Lou Studdert walks you through a level as well as many of the new features including the Villain "time limit". If you haven't seen it yet, I would call this a must-watch video for all Skylanders fans.
In this video you will see:
Buzzer Beak (Air)
Broccoli Guy (Life)
Painyatta (Magic)
Wolfgang
Secret Sewers of Supreme Stink (Level)
The Skylanders Academy (Hub)
New Style Lock Puzzle
Skystones Smash (Card Game)
Wrap-Up
All in all I think it was a pretty good day.
We got a lot of new gameplay and pictures. We got a few questions answered (obviously not all our questions, but some).
Now we just have to wait for the rest of the news to trickle out over the next four months.