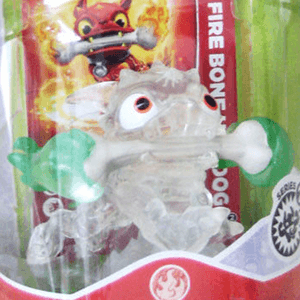 This week many of the early winners in the Frito-Lay Fire Bone Hot Dog contest have been receiving their prizes. So naturally there have been a lot of questions regarding the contest and the prizes. While I am not an "official" source of information I will gladly share what I know.
What contest is this?
It surprises me every time I get asked this question, but I just have to remember that not everyone follows Skylanders as closely as I do.
This is Frito-Lay's annual Skylanders giveaway. At least once a year Frito-Lay has some sort of Skylanders contest and/or giveaway. In the past we've seen Flocked Stump Smash and Quick Draw Rattle Shake. (They've also been responsible for the Skylanders Sidekicks, but they were not handled in the same fashion.)
Although some folks are already receiving their prizes, there is still plenty of time left to enter. The contest runs through September 5, 2014.
For more details of the contest and to learn how to enter, you can find my original article here.
What are the prizes?
If you win, you will receive one of three similar yet different prizes.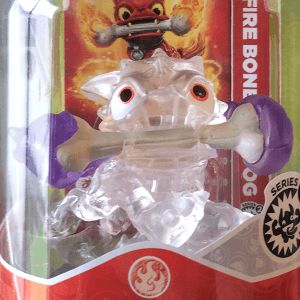 You will receive a variant of Fire Bone Hot Dog. These variants feature a clear base and Hot Dog with a white bone in his mouth. The flames on each end of the bone as well as Hot Dog's tail will be one of three colors: green, purple, or red.
The Official Rules state that there will be 5,856 prizes. I would assume that they made an equal amount of each of these three colors. That means that there are only 1,952 of each color of this Fire Bone Hot Dog variant.
As of this post, there are 6 Green, 17 Purple, and 19 Red that have already been listed on eBay. I'm sure there will be more to come over the next few weeks.
Of the few that have sold so far, they seem to be selling for $150-$200. This is about what I would expect. I don't think it's unreasonable for how rare these figures are at the moment.
How does the figure look in-game?
Here on SCL I would classify this as a Chase Promotional variant.
In the game he looks just like regular Fire Bone Hot Dog. He is marked as "Special". He also starts at Level 5 with 2100 Gold.
Can I win using either entry method?
Yes.
For those who are new to the contest, there are two methods of entry: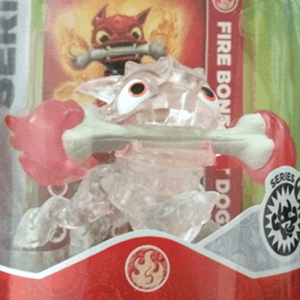 1) The Blippar App
2) The 800 Number
You can find details on the entry methods in the Official Rules or my original article.
Fans have won using both the App and the Phone Number. Winners have also received their prizes from both App wins and Phone wins. Neither entry method is better than the other.
How long do I have to wait to receive my prize?
The Official Rules state that you should expect to wait 8-10 weeks for your prize.
However, I won on Day 2 of the contest (July 8th) and received my prize early this week (August 5th). So it looks like they got a head start on shipping out the prizes.
I heard that no one has one since the first week of the contest. Are they still giving out prizes?
Yes.
Allow me to explain what I think happened:
All the hardcore Skylanders fans knew about this contest weeks in advance. So when July 7th rolled around they all entered immediately and many of them won. They happily went about tweeting their wins and posting about their wins on the forums. Everyone was happy.
Within a week the rest of America caught on and started to enter the contest. Not only did this large influx of entries greatly reduce everyone's chances of winning, but it also decreased the wins of the hardcore, vocal fans.
What I'm trying to say is that people were still winning, but they just weren't shouting it from the rooftops.
I have been contacted by three separate readers THIS WEEK that have told me they won. Two of them won by phone, one won using the App. They all won at different times of day as well (roughly 6AM, 8AM, and 3PM).
Just because you haven't heard about as many wins doesn't mean that the contest is flawed or they have stopped giving out prizes. It's just the nature of the beast.
The only advice I can give you is, be vigilant, remember to enter each and every day. You can't win if you don't play.
Will these ever be available in stores?
Like I said at the beginning, I'm not the official source, but my bet is on NO.
Some folks think it will because of Quick Draw Rattle Shake…
Last year Frito-Lay gave out Quick Draw Rattle Shake. This was an in-game variant that would just be crazy to keep so limited. The wording in the contest stated that Quick Draw would be exclusive to the contest through December 31, 2013.
At the end of July 2014, Quick Draw Rattle Shake was released in stores.
Now many folks have noticed that this Fire Bone Hot Dog contest uses the same wording and claims that the figure is exclusive through December 31, 2014.
While I don't have proof I believe this is just standard wording for all Frito-Lay/Skylanders contests. There are two major reasons I do not believe that we will ever see this Fire Bone Hot Dog variant in stores.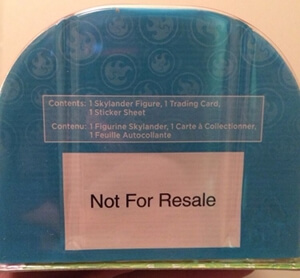 1) This is a Chase variant similar to Flocked Stump Smash which never made it to retail. Quick Draw was an in-game variant and never before has an in-game variant not been found at the retail level.
2) Quick Draw Rattle Shake had a barcode on the bottom (even the figures that were won in the contest). Meanwhile, Fire Bone Hot Dog has the infamous Not For Resale label in place of a barcode. This Not For Resale label is most commonly found on the E3 and other trade show exclusive figures that are never for sale in store.
You can risk it if you want, but I do not expect to see this variant in stores.
Good Luck!