Each and every year there is one variant series that you can count on to make an appearance. This is the Legendary Series.
Since the beginning Skylanders have had a very close partnership with Toys R Us and part of that partnership is shown in the Legendary Series. As you should expect by now, the Legendary Skylanders are a Toys R Us Exclusive (in the US).
So far we know about two Legendary figures: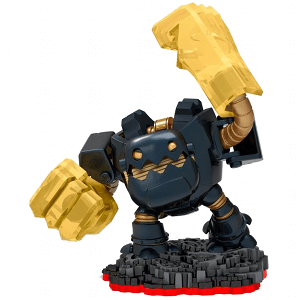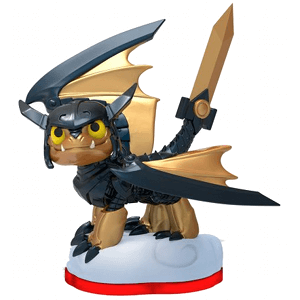 Legendary Jawbreaker will be available in a Single Pack, but the biggest surprise here comes with the packaging of Legendary Blades.
This year we will see out first ever Legendary Adventure Pack…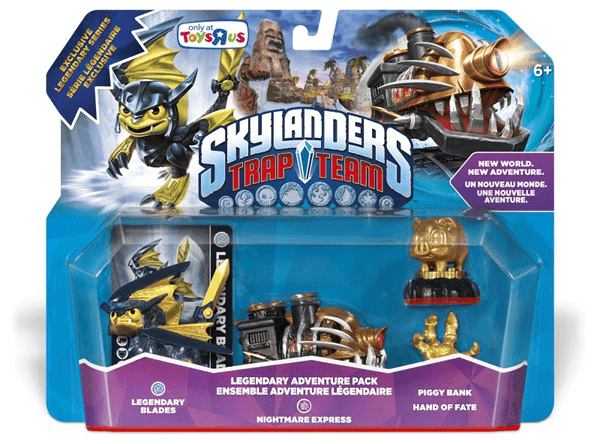 We know for sure that this pack includes:
What we don't know for sure yet is if the Magic Items in this pack are "Legendary".
From leaked pictures we saw earlier this year the Nightmare Express and Hand of Fate do seem to have a different paint job. (The Hand of Fate in particular is sporting the blue and gold Legendary color scheme.) However, the Piggy Bank seems rather unchanged.
I have reached out to some Skylanders experts to see if I can unravel this mystery, but I have not heard back yet.
Will there be a regular Nightmare Express Adventure Pack?
Yes.
There's no way they would make an entire Adventure Pack exclusive to one store, just the variant version.
The regular version was spotted in the pop-up shop at Gamescom. This pack should be available at all other retailers.
When will these Legendary figures be available?
Legendary Jawbreaker and Legendary Blades should be available on Day 1 exclusively at Toys R Us.
Will there be more Legendary Trap Team figures?
There have always been at least 4 Legendary figures per game so I think it's safe to say yes.
I would look for one more Legendary Trap Master and one more Legendary Core Skylander.