Let me just start by saying…
This is NOT my giveaway.
But since it's such a rare opportunity, I thought it would only be right to share it with the rest of the Skylanders fans here on SCL.
Macy's Thanksgiving Day Parade Eruptor
For those of you who haven't seen it yet, this is a very unique figure. The figure is mimicking a scene you may have seen this morning if you watched the Macy's Thanksgiving Day Parade.
Yes, there was a giant Eruptor balloon in the parade.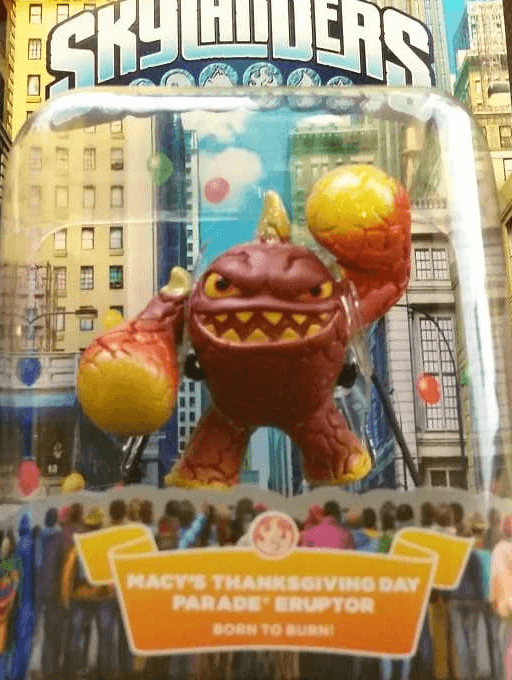 While this figure may be packaged like normal Skylanders, it is not a normal Skylander.
When you get a good look at this guy you will see that the figure has no base. No base means no computer chip. No chip means it does not work in the game.

It's a little fuzzy, but on the back of the box it clearly states: "Toy does not come to life in the Skylanders video games."
So even though this toy is for display purposes only, it is very high on my wishlist.
The Macy's Thanksgiving Day Parade Eruptor was handed out to Activision employees and sent to a number of big name YouTubers (which does not include me). This figure will not be available in stores.
The Giveaway
The giveaway for this figure is taking place on the Skylanders sub-Reddit. It is being hosted by the same Activision employee who selflessly gave away his Snowderdash figure last Christmas.
The rules of entry are pretty simple. You can find the rules in the original post here. This is also where you'll need to go to enter the giveaway.
The raffle ends on Monday 12/1/2014 @ 10:00am PST.
Good Luck!