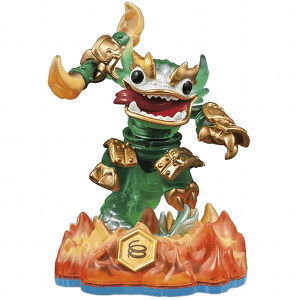 So I was out of town this weekend at a wedding and I was not able to get the weekly SCL Q&A posted. That will have to wait until next week.
Over the weekend though we were able to unravel one last mystery of Jade Fire Kraken. Last week I had theorized that Jade Fire Kraken might be exclusive to Walmart since it had been released for a few weeks without being spotted at any other stores.
I was wrong.
Jade Fire Kraken at Walmart
By now I think we all know that Jade Fire Kraken was first found in Walmart stores.
What's interesting though is that he is also now listed on Walmart.com as a pre-order. I'm not sure how this makes sense since he was already released in stores, but the website is claiming a release date of July 15th.
Jade Fire Kraken at Toys R Us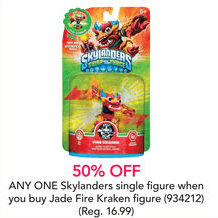 Apparently Toys R Us thinks they have Jade Fire Kraken in stock as he is (almost) featured in their weekly ad.
The ad states that you get 50% off another Skylander with the purchase of Jade Fire Kraken. The ad fails however because they show the picture of regular Fire Kraken.
Go figure…
Jade Fire Kraken at Best Buy
Last week Jade Fire Kraken made it to the Best Buy website as well. The release date was set for July 6th (today!) so it might be worthwhile to check out your local store as well.
I have not made it out to my local store yet as I just got back into town, but it's on my to-do list for tomorrow.
Jade Fire Kraken at Target
Target has also added a listing for Jade Fire Kraken to their website. However, it is just a listing page at this point. It does not have a release date and it is currently not available for purchase online.
Other Jade Fire Kraken Locations
Personally, I'm waiting for Amazon to get a shipment in. They have always been good to me so I would like to reward them with more of my business.
In Canada, I know Walmart as well as EB Games have gotten some Jade Fire Kraken in stock. Since EB Games is related to GameStop, perhaps we'll be seeing them there as well, but I haven't seen any yet.
In any case, Jade Fire Kraken is slowly populating other retail locations so I hope you all are able to find him soon if you haven't already.
Good Luck!