I want to squeeze this one last SWAP Force related update in before we get completely inundated with Trap Team news coming out of E3.
Jade Fire Kraken is the last figure needed for many of your collections, so here's what we know right now.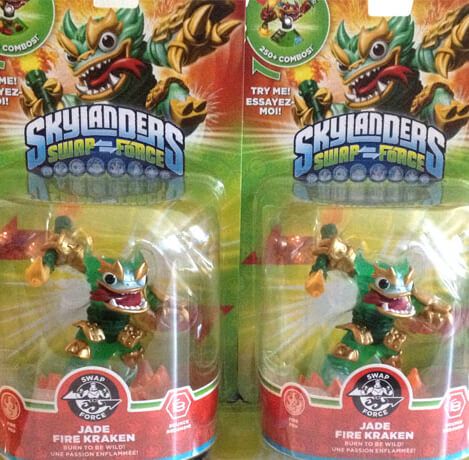 About two weeks ago Jade Fire Kraken was found at a store called Intertoys which is exclusive to the Netherlands.
This week though Jade Fire Kraken has made its way to the US.
We started getting reports, as early as June 6th, that Jade Fire Kraken was being found at Walmart in California. However, the figures were not in the system and were unable to be sold. This was particularly odd because some folks were told that these figures were street dated for June 6th.
The good news is this problem seems to be getting slowly resolved as some were able to buy Jade Fire Kraken yesterday on June 8th.
The main point is that Jade Fire Kraken has made it to the US. As usual it has hit the west coast first and will slowly spread to the east. It has only been found at Walmart at this point, but that is not unusual.
Jade Fire Kraken will soon be available at all major retailers. It does not appear to be a store exclusive like Jade Flashwing.
Now it's time to get pumped for E3 and see what news we can find for Trap Team!