We already had a handful of pre-order options for Trap Team, but this week Amazon has given us even more.
Amazon.com is now listing almost all of what we expect to be Wave 1 as available for pre-order. So if you're the type that likes to get your shopping done quickly and avoid the lines, this may be for you.
The new listings I've seen so far include:
Trap Masters
Gusto
Jawbreaker
Wildfire
Core Skylanders (Single Packs)
Chopper
Funny Bone
Torch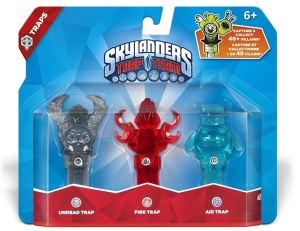 Core Skylanders (Triple Packs)
Chopper, Funny Bone, Sure Shot Shroomboom
Blades, Torch, Tidal Wave Gill Grunt
Mini 2-Packs
Bop & Terrabite
Drobit & Trigger Snappy
Hijinx & Eye Small
Spry & Mini Jini
Trap (Triple Packs)
Undead, Fire, & Air
Tech Magic, & Earth
NOTE: What you might notice here is that these two Triple Packs along with the contents of the Starter Pack will give you one Trap from each Element. I am very glad they packaged them this way.
Adventure Packs
Nightmare Express
They currently have the release date set for October 5th just like the Starter Packs so I imagine this is all Wave 1.
Do you like to pre-order or do you do all your shopping in stores?