Over the years there have been a number of different Skylanders checklist apps. Some have been taken down by Activision, some were never updated for new OS versions, and some were neglected by their owners and never updated with new Skylanders.
While this new app is extremely simplistic and barebones, it satisfies my #1 requirement:
It is complete.
How do I know it's complete? I supplied the creator, Craig Caruso, with the list of Skylanders he used to create the database. With that being said, let's take a closer look at the app.
What is this App?
The app I'm talking about is the Unofficial Skylanders Checklist.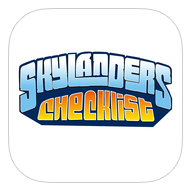 Multiple Lists
Within this app you can keep up to three different lists. They are conveniently labeled Own, Want, and Trade, but in reality you can use each list for whatever you want. For most people though, those three titles should be quite accurate.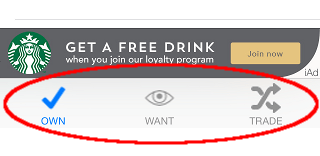 A Complete List
Once you've selected which list you want to edit, you'll find yourself looking at one long, but complete list of Skylanders figures.
This list may seem a bit cumbersome at first, but if you take advantage of the Search Bar at the top of the screen it will make your experience much better. You can search for individual figures if you want, but I like to view Skylanders by game. So I simply search for "SSA" and everything but the Spyro's Adventure figures are quickly filtered out of the list.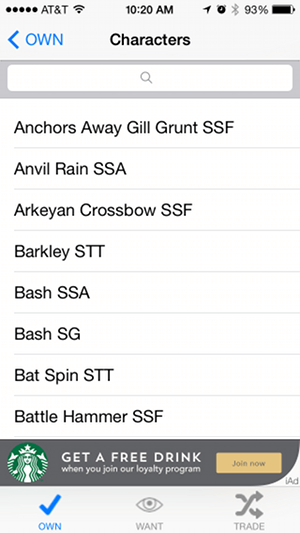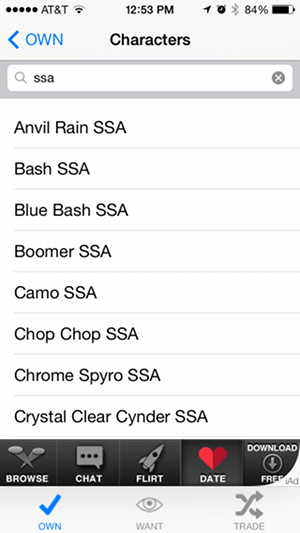 Sharing Your Lists
The last feature of the Unofficial Skylanders Checklist just might be my favorite. With the holidays just around the corner there are sure to be many Skylanders gifts in the near future. While the kids may have their collection memorized, the parents and grandparents who are out doing the shopping do not.
So once you're done editing your list (most likely your Want list) it's time to share it. With one simple click your entire list is entered into an email. You can edit the list further here or add special notes, but within seconds it's ready to go.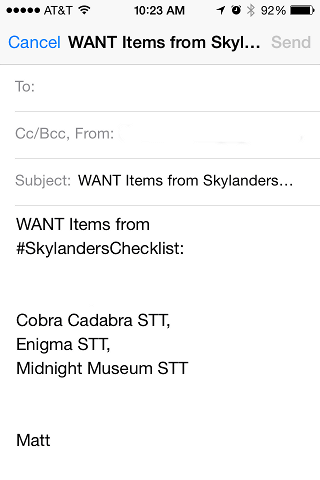 Try It – It's Free
Right now the Unofficial Skylanders Checklist app is free in the App Store. It's a small download, so give it a quick test drive and let me know what you think.
I would love to get as many opinions as possible on this app.
Full Disclosure: This is not my app. I have not been compensated for this promotion or any contributions to the app. However, I am in contact with the creator of this app so your honest feedback would be greatly appreciated.