Today we not only learned about a new Trap Master, but we are presented with a unique opportunity.
If you haven't already seen it, here's Gearshift…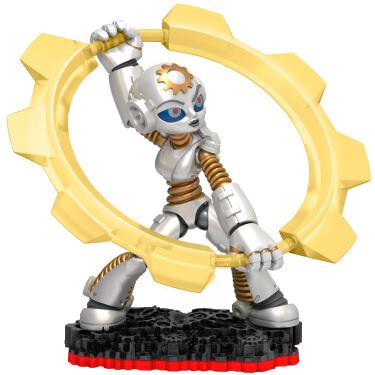 So why is Gearshift so special? Check out this snippet directly from Activision's press release this morning:
Skylanders Trap Team™ will get a heavy dose of girl power when Activision Publishing, Inc., a wholly owned subsidiary of Activision Blizzard, Inc. (NASDAQ: ATVI) brings Gearshift to Portal Masters via a special pre-order program starting today. Gearshift is the latest character to be unveiled in the Skylanders Trap Team lineup and will be offered to Skylanders fans for pre-order at all major North American retailers while supplies last. This marks the first time fans will be able to get their hands on the Tech element character, months in advance of her official arrival at retail in 2015. Only a limited supply of Gearshift will be available for the October 5, 2014 launch of Skylanders Trap Team™ in North America, so fans are encouraged to pre-order her today to guarantee they can get this highly collectible character at launch!
According to this announcement, Gearshift should be available to PRE-ORDER at all major retailers TODAY! (I have not seen anything from retailers online yet, but I'll let you know if that changes.)
UPDATE: Gearshift is available for pre-order on Amazon.com. (This also confirms the $14.99 price tag for Trap Masters.)
If you pre-oder Gearshift, you will receive her on Day 1 (October 5, 2014).
However, if you miss out on this opportunity, don't worry. Gearshift will still have a standard release, but you'll have to wait until 2015. (This probably means Wave 4 or 5.)
I'm curious to see how this all plays out, but I will admit that this is an interesting way to generate some early hype.
What do you think? Do you like the new figure?