By now you should all be pretty familiar with what's coming in Wave 2. I know that many of you were already able to get your hands on it from the Toys R Us early release.
In any case, I know there are still many of you who need to get Wave 2. The good news is the official release of Wave 2 is coming up quickly.
When can I get Wave 2?
We already knew that you can pre-order Wave 2 figures at GameStop. They were claiming a release date of October 12th, (which may actually turn out to be true).
This week we also got a sneak peek at Target's upcoming ad for October 12th. This ad states: "New Skylanders available now!" and features pictures of Bushwhack, Tread Head, and an Undead Hand Trap.
Finally, Walmart.com has put up pre-order listings for all of Wave 2 (including the Mirror of Mystery). These listings can be found here:
Fizzy Frenzy Pop Fizz
Full Blast Jet-Vac
Hog Wild Fryno
Mirror of Mystery Adventure Pack
What's in this Trap 8-Pack?
Perhaps the most interesting part of this find is the Trap 8-Pack. Not only does it give you a good selection of the Wave 2 Traps, but it's a chance to get your hands on a brand new Villain Variant!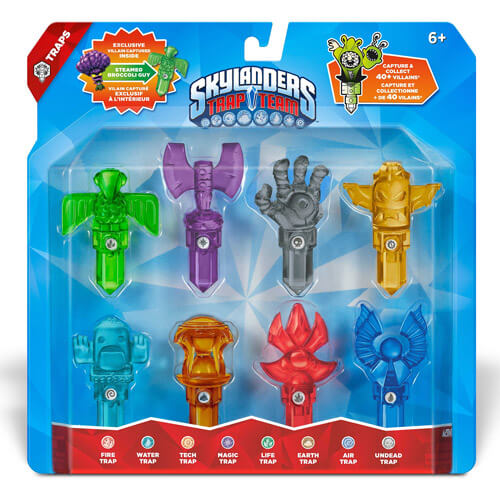 The pack includes:
Life Toucan Trap (with Steamed Broccoli Guy inside)
Magic Axe Trap
Undead Hand Trap
Tech Tiki Trap
Air Screamer Trap
Earth Hourglass Trap
Fire Scepter Trap
Water Angel Trap
Neither the image, nor the listing seem to claim that this is a Walmart exclusive so I think we'll probably see it at other retailers, but that hasn't happened yet.