For those of you who don't know, Skylanders Boomcast is a weekly short put out on the official Skylanders YouTube channel. It is hosted by Zach Gordon (Diary of a Wimpy Kid) who features a new character or segment from Skylanders SWAP Force.
About a month ago we noticed Zach holding up an odd figure in the beginning of the episode.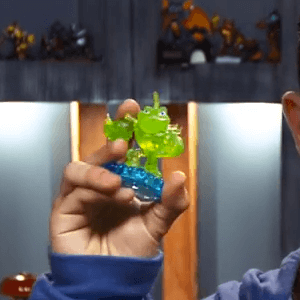 As you can see, it looks like a Green Rip Tide. Throughout the episode Zach makes no mention of the figure other than holding it up for us to see. We do not have any information about when or how this figure will be released, but I do believe it is an upcoming variant.
Then, in this week's episode of Boomcast, we had a very similar situation. Right in the beginning of the episode Zach is holding another, never-before-seen figure.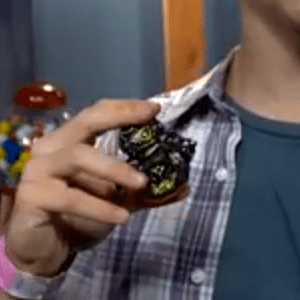 This figure appears to be a Metallic Green Shroomboom. Once again though we have no news about when or how this variant will be available.
A few things I would like to note about this most recent unveiling:
1) It seems that Activision has decided to use these Boomcast episodes to quietly reveal new "treasure hunts" or chase variants to the public. While it would be nice if they actually mentioned them in the episodes, I think it is safe to say that these are official variants.
2) Earlier this month we discovered Crystal Whirlwind an odd, retro variant. With the appearance of this Metallic Green Shroomboom, it seems that they are not afraid to make more retro variants as we move forward. So keep your eyes open.
Have you seen any other new variants? What variants would you like to see?