I hope you've all a happy Christmas. I'm sure there were many Skylanders given as gifts over the past few days.
If you live in Australia there's a good chance that you may have gotten some of these new figures.
Nitro Head Rush
Head Rush is the second (and final) Nitro character to be released with Trap Team.
Nitro Head Rush has now been found and purchased at Big W in Australia.
https://www.youtube.com/watch?v=dofouasuvYY
So far Nitro Head Rush has only been found in Australia. When it does reach the US though it will be exclusive to Target just as Nitro Krypt King was. I recommend following SCL on Facebook for quickest updates.
Rebel Lob Goblin
Rebel Lob Goblin is the latest Villain Variant.
He has also been found and purchased in Australia. It seems to be exclusive to EB Games.
https://www.youtube.com/watch?v=zAEt2fUxn8Y
Just like the three previous Villain Variants (Outlaw Brawl and Chain, Riot Shield Shredder, Steamed Broccoli Guy), Rebel Lob Goblin requires the purchase and use of an exclusive Trap. In this case Rebel Lob Goblin is found in a Light Rocket Trap.
No word yet on when or where this Trap or Villain Variant will be found in the US (or other countries).
NOTE: Villain Variants just have a different coloring in the the game. They do not have any extra powers or functionality.
Clear Tuff Luck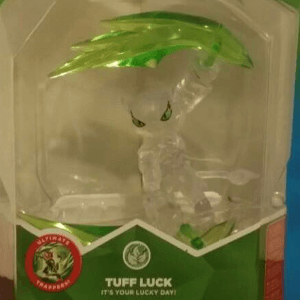 Finally if you haven't been following the SCL Facebook page, you may have missed the discovery of the first Chase Variant figure in Trap Team.
Clear Tuff Luck has made a few appearances in Europe (mostly in the UK). Because we haven't had any sightings here in the US yet, it's hard to say exactly how rare this variant is going to be.
So while it took a while for the first chase variant to surface, they are definitely back.
Happy Hunting!