The rumors and shreds of evidence have been piling up for a few weeks now, but GameStop has finally made the announcement.
Both King Cobra Cadabra and Steampunk Shrednaught are GameStop Exclusives.
Skylanders Day – June 27th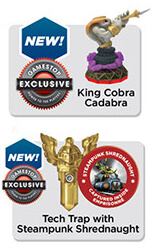 I have already shared my disdain for GameStop and their "Skylanders Days" many times over, so I won't go into that here. But here's what you need to know.
I can confirm that GameStop employees have received correspondence from corporate stating that neither of these items are supposed to be sold prior to June 27th.
In any case, with GameStop's track record, I highly recommend keeping a close eye on your local stores this week if you are interested in these figures.
One Day Sales
In GameStop's ad this week, they have a number of sales that are only good on June 27th.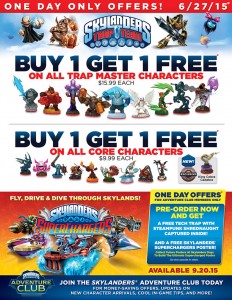 These include:
Buy 1, Get 1 Free Trap Masters
Buy 1, Get 1 Free Core Skylanders
Get Steampunk Shrednaught Free, with Pre-order of Skylanders SuperChargers (for Adventure Club Members)
Additional Sales All Week
There are also a few more Skylanders sales that are valid from June 24th to June 30th.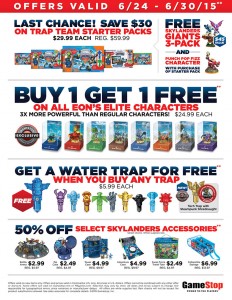 These include:
Trap Team Starters Packs – $29.99
Free Giants 3-Pack and Punch Pop Fizz with purchase of Starter Pack
Buy 1, Get 1 Free Eon's Elite Skylanders
Free Water Trap with purchase of any other Trap
50% off select Skylanders Accessories
The star of these sales is definitely the Buy 1, Get 1 Free Eon's Elite. This essentially makes them $12.50 each, but you do need to buy them in pairs.
I definitely want to get my hands on King Cobra Cadabra and Steampunk Shrednaught, so I will be keeping close tabs on my GameStop locations this week.
Hopefully we don't encounter too many horror stories.
Good Luck!