So unless you've been hiding under a rock, there's a good chance that you've heard something about vehicles being involved in Skylanders 5.
It began with old rumors from last year, but after a few leaks (including a new figure with an engine on its base, a tweet from a video game "insider", and a post from stuntman/racer Travis Pastrana) that all seem to fit together, it seems quite likely.
My Position
I am not opposed to the addition of vehicles. I think adding vehicles simply adds a lot of potential to what Skylanders could become.
However, everyone I talk to immediately seems to think that the addition of vehicles means that Sky 5 is going to be a full-on racing game.
First of all, I do not think that Skylanders 5 will be a racing game.
Second, I think everyone needs to take a deep breath and realize that there are many other possible uses for vehicles.
Just look at the competition. Disney Infinity and Lego Dimensions both have vehicles, but neither of them are racing games. (Yes, I know DI 3.0 is introducing racing game, but it is not the main focus and vehicles still existed in 1.0 and 2.0.)
The Options
As I mentioned above, I do not believe Sky 5 will primarily be a racing game. With that in mind, here are a few other possibilities.
1) Battlefield Style
I can't tell you how many LAN parties have been dominated by Battlefield 1942 back in the day. Not only were vehicles the best means of transportation, but they were all equipped with weapons.
Now I'm not saying that we'll be playing Capture the Flag in Sky 5, but why can't the vehicles be tanks, boats, and airplanes?
Just look at these Mega Bloks sets from last year. Do these look like race cars to you?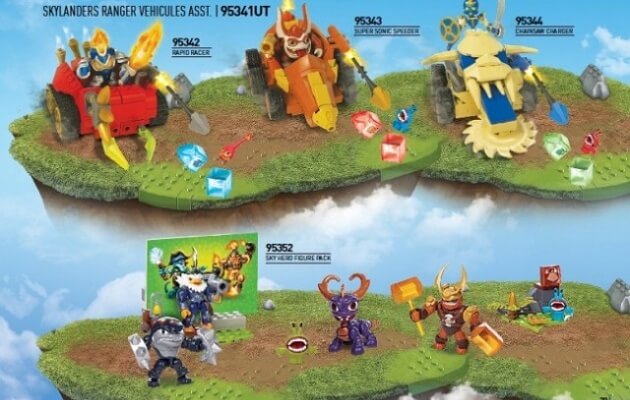 2) Mini Race Zones
Keep in mind that Vicarious Visions is in charge of the new game this year. This is the same studio that brought us SWAP Force.
What if, instead of SWAP Zones, this year we have Race Zones?
We could still use our regular Skylanders to pass through the Elemental Gates, but you would need a vehicle to enter the Race Zones.
3) Battle Bots
Perhaps the vehicles could be used in some sort of arena challenge.
I could see this playing out like Battle Bots or even some kind of demolition derby. It would be a great way to add in some friendly competition.
4) Transport and Protect
Maybe I'm thinking about this too much and vehicles could simply be a faster form of transportation that offers extra protection while you're riding in it.
If this is the case though, I would imagine that this would be in addition to an arena or mini-game involving the vehicles as well.
5) Spinoff Game
In all reality, we don't even know that the leaks about these vehicles relate to the main Skylanders release this year.
Think about it. Skylanders have been around for five years now. They have millions of fans worldwide and are still considered the leaders in the toys to life space.
I think that they would have the ability to create a spinoff game that is completely about racing while still providing us with the fifth iteration in the main Skylanders series.
Wrap-Up
All in all, I don't think we really have to worry about losing Skylanders as we know it.
Until they officially announce the game and tell us what it's all about, there's no need to freak out.
If I'm not mistaken, I believe that a number of big name Skylanders promoters got a preview of the game this week and we should be hearing something shortly before E3.
I'm guessing that Activision is holding off this year so that after they intro the game they can hopefully keep the buzz going all the way through E3.
In case you were wondering, E3 is taking place June 16-18 this year.
Enjoy!