Now that Disney and Lego have both made their big announcements, everyone is waiting on Activision to bring us some details of Skylanders 5.
Well, today we still don't have any official news, but we may just have a look at a new character design.
Reddit user /u/The_Beaner posted the following pictures today. He states that they are not his original pictures, but he does not tell us where he got them from.
[box]
UPDATE:
The images originated from a Facebook group called Skylanders Worldwide. In this group there is a thread started by someone trying to figure out if this was a Skylander. Here's a brief account of how they got their hands on it:
"What happened is someone who sells mind game toys was getting a shipment from China but a the shipping company lost their packages and so they got sent more but from the US and it had Skylanders in it but the box had no return address they just know it came from the US"[/box]
Click on each image to get a larger view: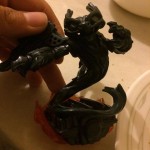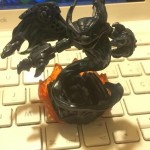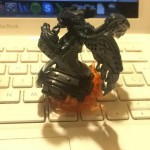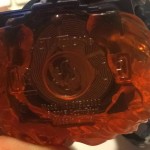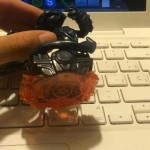 For those of you wondering, no this is not a finished character. In all likelihood, this is an unpainted prototype figure.
In any case though, the picture that interests me the most in the fourth image. This shows us the bottom of the figure where you can see the Activision name, the Model # of the figure, and the 2015 copyright.
Not even the latest releases like Enigma have a 2015 copyright. This is a new figure.
Anyway, I still hope that the official Sky 5 release is coming soon, but this will give us all something to speculate over for a while.
Enjoy!