So it appears that Activision is intent on keeping us busy during these few short months until SWAP Force is released.
To start off we have Punch Pop Fizz being released in a new Single Pack. This seems to be going down much like the Dark Spyro Single Pack. They both started off as a 3DS Starter Pack variant and then went on to be released in a Single Pack. Once again it looks like this single pack is only being released in the UK.
The US received the Gnarly Tree Rex Single Pack and the UK gets Punch Pop Fizz.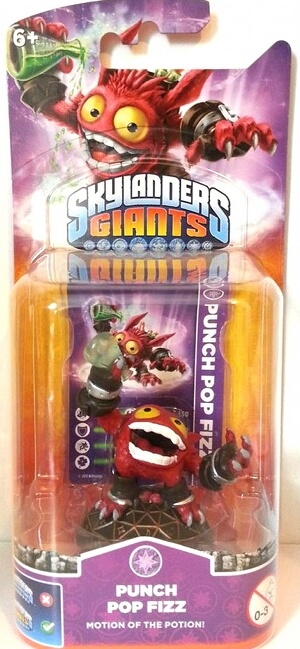 Secondly, we seem to have a brand new variant to set our sights on. Yesterday, a Series 2 Green Gill Grunt appeared on eBay. Since being listed Chris (a Toys For Bob employee who also confirmed the existence of the Metallic Purple variants) has confirmed this Green Gill Grunt to be a legitimate variant as well.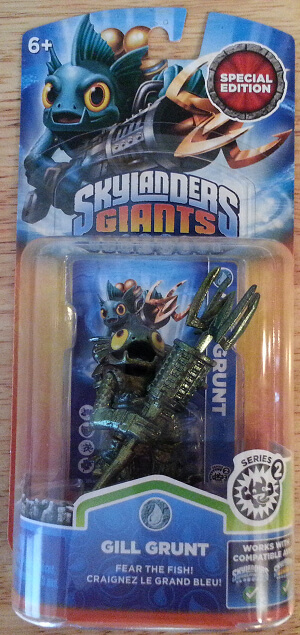 A this time we do not know how rare this figure will be or how it is being distributed, but I will be sure to bring you updates as soon as they are available.
If I had to guess now, I think this figure will slowly start to appear on retail shelves. Although the numbers are sure to be very limited quite like the Metallic Purple variants we saw last month.
UPDATE: Although this information is far from official, it sounds like these figures will be extremely rare. It seems that this Metallic Green Gill Grunt will NOT be going to retail. They are strictly being handed out by Activision to select vendors, reps, and others with close ties to Activision.
UPDATE: It seems our previous information is quite accurate thus far. These figures being handed out by Activision would explain the "Special Edition" designation. I expect this figure to turn out much like the Employee Edition Prism Break we saw in 2012.