Pretty quick news update this week. As we get closer to Christmas we're not seeing a lot of new announcements or releases, but it's more about where you can find the figures you're looking for last-minute.
Wave 3 is Spreading
Thankfully Wave 3 has spread a little bit more this week, still not as much as I had hoped.
SuperChargers
You should be able to find the Wave 3 SuperChargers just about anywhere you go now. I have personally seen them at:
Best Buy
Target
GameStop
Toys R Us
So even if you can't find them in your local retailers, Amazon has you covered.
Vehicles
This is what was really disappointing. The vehicles have still only been found at Toys R Us.
While it is nice that they are available from their website (and they're 50% off this week) I was really hoping that they would have made it to other retailers by now.
Maybe next week.
Sky Action Pack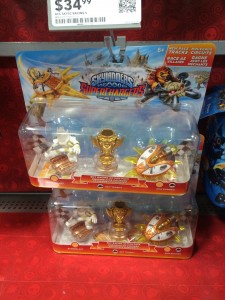 The other piece of Wave 3 to look out for is the regular Sky Action Pack.
The Legendary version has been available at TRU for a long time now, but I know a lot of you were looking forward to getting the regular version.
I've gotten more than a dozen reports this week of people finding this pack in stores. Unfortunately, I can't tell you exactly where to look because there is absolutely no pattern to this release.
My first report can from a Target in Michigan, then a Walmart in Virginia, and then a Best Buy in Ohio.
Personally though I was only able to find it at my local Best Buy here in Wisconsin. So hopefully wherever you live, you will be able to find it in at least one location.
Remaining Wave 3 Packs
As I've mentioned a few times before Wave 3 is typically a split release. The split comes before and after Christmas.
We've already gotten more than I anticipated before Christmas so I wouldn't expect anything more.
The remainder of Wave 3 (2 Combo Packs and 1 Triple Pack) I would expect to see shortly after Christmas. It's possible some of you might still see it in December, but it will most likely be January before everyone can find them.
Patina Burn-Cycle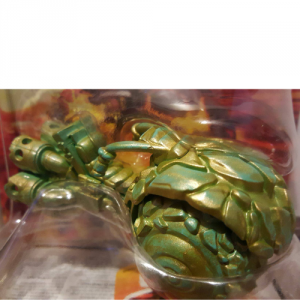 Finally I would like to announce that the Patina Burn-Cycle variant seems to be legit.
I was extremely skeptical for a long time because it broke all the "rules" of variants that we've seen in the past. For example:
Typically Chase Variants come in sets of 3 and we already had Patina Shield Striker, Patina Lava Lance Eruptor, and Patina High Volt that had been confirmed multiple times
Typically Chase Variants are released in the same Wave of their regular counterpart. Burn-Cycle was a Wave 2 figure, but the variant didn't show up until we started seeing the replenishment of Wave 2.
For a long time we had only seen one Patina Burn-Cycle on eBay. But since that time I have spoken with the owner of a second Patina Burn-Cycle and can confirm that these are real.
It seems that they are hitting shelves slowly because the replenishment of Wave 2 is being trumped by the initial release of Wave 3.
I think that's it for this week.
Keep yours eye open and Happy Hunting!