Another exciting week with a few more things to buy.
Full Release of Wave 3
It looks like the remainder of Wave 3 has finally arrived.
For the time being most of it is only available from Toys R Us, but it is available.
Wave 3 Sensei Figures
There are five new Sensei to watch out for in this Wave.
These are currently available at TRU and on the TRU website.
Enchanted Elven Forest Adventure Pack
The Wave 3 Adventure Pack was already available from TRU last week, but it seems the exclusivity will be wearing off soon.
The pack has been spotted at Target today.
A second source told me that it was register locked for December 9th. I would definitely keep that date in mind.
Other Releases
Additionally there are a few other packs and variants that we have been tracking.
Thumpin' Wumpa Islands Adventure Pack
This pack was first spotted at GameStop, but throughout the week it has been spotted regularly at most major retailers.
I don't expect you should have too much trouble finding this pack now.
Jingle Bell Chompy Mage
Jingle Bell Chompy Mage also appeared at GameStop first, but it has started spreading as well. It should be at most TRU locations now and I would expect it to keep spreading throughout the week.
Creation Crystal Triple Packs
The two new Triple Packs are still only available from Amazon. I don't know if these will ever make it to retail as the first two Triple Packs were extremely scarce I wouldn't risk it if you're interested.
In Triple Pack #3, you'll get:
The Fire Acorn is new in this Wave, but it is also available in a Single Pack.
In Triple Pack #4, you'll get:
This is the first Dark Creation Crystal available outside of the Dark Edition Starter Pack (here in the US). The Dark Pyramid was also available in the 8-Pack, but that has not made it to the US yet.
The Dark Pyramid is not in a Single Pack in this Wave. I have no idea if it will ever be in a Single Pack, but I'm not counting on it.
Painyatta Combo Pack
No sign of the Painyatta Combo pack in the US yet.
It is scheduled to release in most European countries this week.
It is also scheduled for Australia on December 8th as a Target (Australia) Exclusive.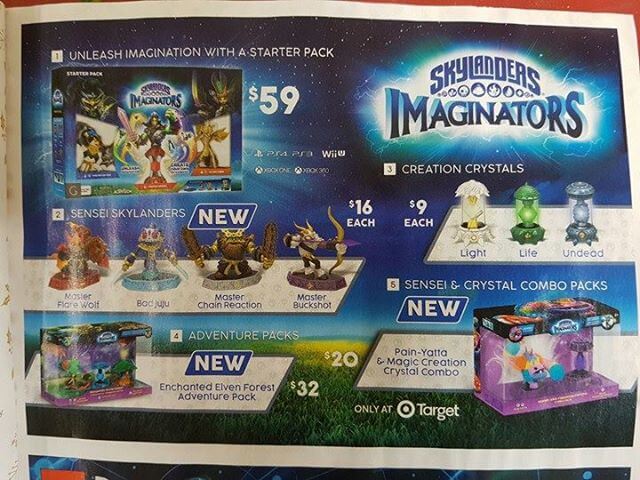 The rest of Wave 3 should also be making its way to Australia for release on December 8th as well.