This week is all about results and deals.
Toys For Games Awards
The voting period just ended yesterday and I'm glad to say that thanks to all of your votes, it's looking good.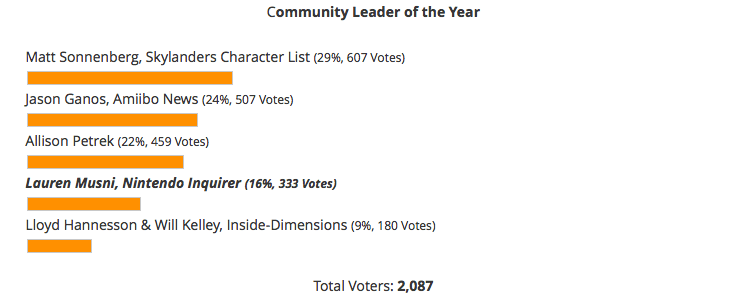 I officially won the fan vote for Community Leader of the Year, but that's only one-third of the total vote. Josh and Jason (of Toys For Games) each own a third of the vote as well. But as I said, I'm feeling pretty good about this one.
Be sure to tune into the next episode of Toys For Games (being recorded tomorrow, January 19th) to find out who won.
SCL Collection Tool Update
More than 300 collectors have already sign up here at SCL.
I've been getting a lot of positive feedback about this new feature. I'm glad to hear that you're all finding it useful.
This week I released a video showing you how I personally use this new tool. I'm hoping it might help a few more of you step up to the plate and try it out.
Odd Amazon Listings
Normally I wouldn't even bring these up because there's not a lot to say about them, but it's been another slow news week.
About two weeks ago Amazon put up a few new vehicle listings. These included Single Packs of:
I would lean towards this being Wave 4, but the selection doesn't quite make sense to me.
Buzz Wing
Because of this listing I am leaning towards Buzz Wing being in Wave 4. This will be nice because we are expecting Eggcited Thrillipede in March just in time for Easter. So we would be able to make another SuperCharged Combo right away.
Hot Streak
We've talked numerous times about Hot Streak being released in a Single Pack. We knew it wasn't going to be in the first three Waves so Wave 4 would once again makes sense here.
Soda Skimmer
Although it's been released in Australia, the US has still not seen Combo Packs #3 and #4. One of these holds the Soda Skimmer.
It has become another recurring theme that the US receives the first wave of Combo and Triple packs, but the remainder are only shipped abroad. We may just have to wait for the Single Packs of Soda Skimmer, Roller Brawl, and Tomb Buggy.
So it would definitely be nice to see Soda Skimmer in Wave 4, but why not Tomb Buggy as well?
Sun Runner
This one confuses me completely. I was pretty sure that the SuperChargers and Vehicles in the Action Packs were going to be exclusive to the Action Packs.
However, this year they've already decided to sell the Kaos Trophy separately, outside of the Dark Edition Starter Pack. So really, what's stopping them from breaking up the Action Packs?
While there's still a slight possibility that this is a typo, the fact that it's an official listing on Amazon.com makes me think that it might just be real.
Only time will tell.
Random Amazon Deals
Amazon is tough to report on because their prices are always changing. Sometimes for better, sometimes for worse.
In any case, many of the SuperChargers are discounted right now (some under $6) and the Sky Action Pack has been getting cheaper by the hour.