There was a ridiculous amount of Skylanders news this week and unfortunately this was the week I was about to spend time with my family for the holidays so much of the news did not get reported as promptly as I would have liked.
With that being said though, it's time to get you caught up. In the video version you'll just get the highlights, but I'll be sure to give you the details and some commentary in the article below.
Skymiibo Combo Packs
This is the one item I got to touch on a bit before I went out of town.
The Nintendo-Only figures are being released outside of the Starter Packs.
They have already been found and purchased on the West Coast at many Walmart and Toys R Us locations. I imagine we'll start to see these packs spread across the US over the course of the next week or two.
Please keep in mind that these figures only work with the Wii, Wii U, and 3DS versions of Skylanders SuperChargers.
Just because they are being released separately from the Starter Packs does not mean that they have gained extra functionality.
Skylanders Battlecast Update
Jason over at Skylanders Inquirer was able to get more information about the upcoming Skylanders trading card game called Battlecast.
A fan over in New Zealand was able to get his hands on a number of Battlecast packs and shared his findings with Jason. He did a great job covering that news so I'm going to send you over to his site to take a look at all the new images.
I'm really hoping that this game pans out, but there are still a lot of questions left to be answered.
Skylanders Day
This Saturday, January 9th, GameStop is hosting another Skylanders Day.
In addition to many great sales, which you can find here: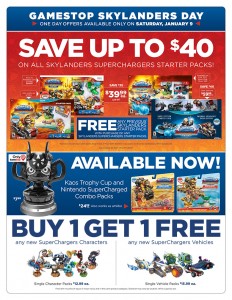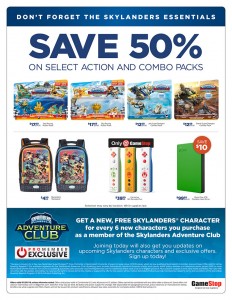 they are also advertising the Skymiibo Combo Packs I mentioned earlier.
The biggest news though is the appearance of the Kaos Trophy Single Pack.
Previously this was only available in the Dark Edition Starter Pack. However the Trophy, which allows you to race as Kaos (in his Doom Jet), will now be sold separately.
The ad states that it will cost $7.99 and will be available exclusively at GameStop. At this point it's hard to say whether or not this will be a Timed Exclusive or a permanent Exclusive, but I'm leaning towards the former.
If you take a look at this image: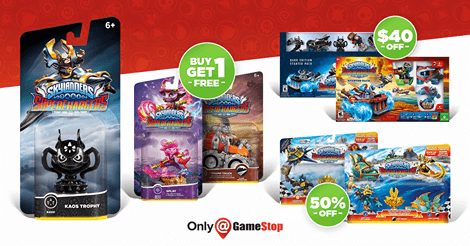 we see the packaging for the Kaos Trophy, but it does not appear to have any GameStop Exclusive markings on it. So time will tell, but if you haven't picked up the Dark Edition yet, here's your chance to get a Kaos Trophy.
New Releases
Finally, we have a few variants being released this week.
Legendary Bone Bash Roller Brawl
Legendary Bone Bash Roller Brawl is a Toys R Us Exclusive. She currently has a Hold Date of January 5th.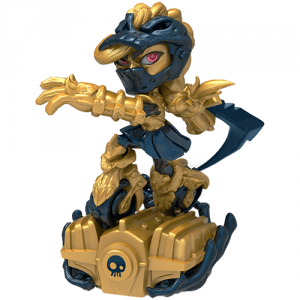 A Hold Date is not the same as a Street Date. With a Hold Date they are just trying to coordinate the release within the store. This might line up with a weekly ad or some other promotion, but they just want all the stores to release it on the same day. It is not register locked.
So if your store happens to put these figures out early (as mine did), you should not have a problem purchasing them.
Birthday Bash Big Bubble Pop Fizz
Birthday Bash Big Bubble Pop Fizz also is reported to have a Hold Date of January 5th at Toys R Us.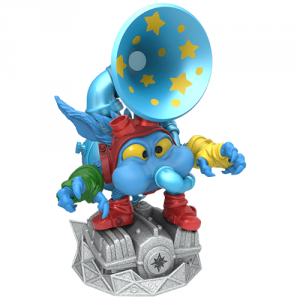 My store has not gotten these figures in stock yet and I do not believe that they are exclusive to Toys R Us (although they may be getting them first). I know a handful of these have been found on the West Coast as well.
Hopefully we'll have some more sightings soon.
Nitro Soda Skimmer
Nitro Soda Skimmer is a Target Exclusive. It currently has a Hold Date of January 10th.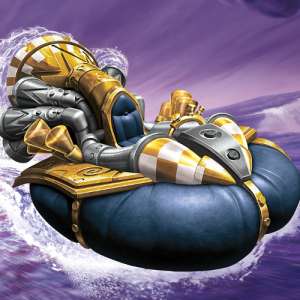 I have not seen these out on the shelves anywhere, but if you ask a Target employee VERY nicely to look up this
DPCI # 207-03-0209
They can tell you if they have it in stock and they'll probably be able to pull it out of the back room for you. If you do get your hands on one, once again you should not have any problems buying it as it is not register locked.