We have news to talk about again and it turns out figures may be coming sooner than expected.
Easter Variants Release Date
I did a full write-up on this last week so I won't spend too much time on it, but it appears that the two Easter variant Skylanders this year will be hitting TRU stores as early as February 27th. This includes:
Still no word on Heartbreaker Buckshot.
3D Printed Imaginator
I received my custom 3D-printed Imaginator this week.
I featured it in a midweek unboxing video, but I also included some close-ups in this week's news video if you're interested.
I ordered my figure on December 15th and received it on January 26th.
Possible Wave 4 Update
Amazon (Italy) has given us something to talk about today.
They put up four new listings that seem to hint at the upcoming Wave 4 release.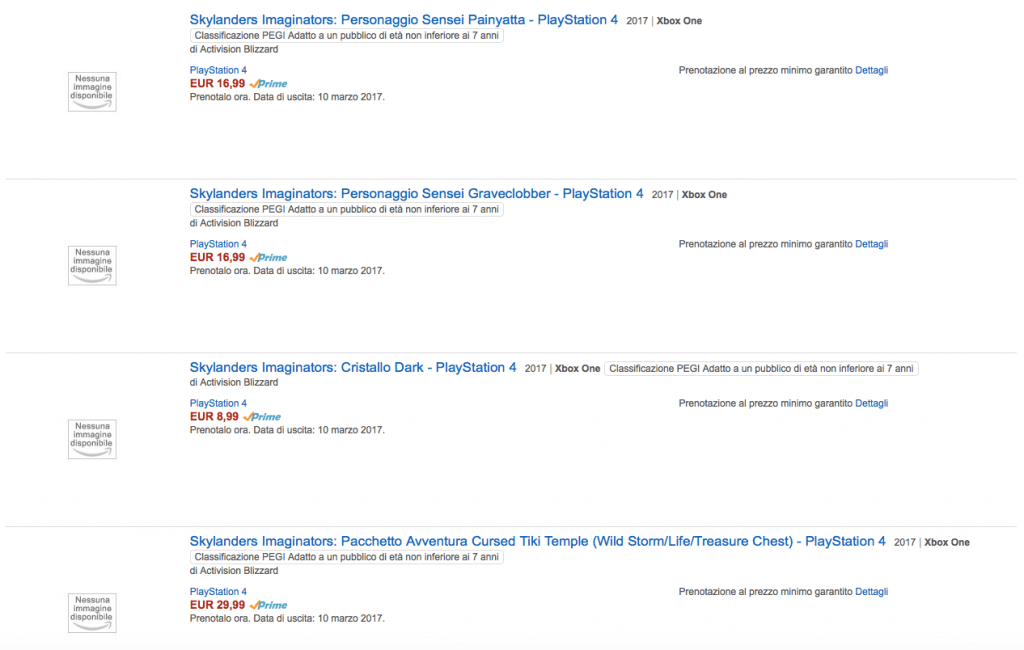 These four listings include:
Pain-Yatta Single Pack
Grave Clobber Single Pack
Dark Creation Crystal Single Pack
Cursed Tiki Temple Adventure Pack
All four items currently have a release date of March 10th listed.
Release Dates
Let me start by saying, just because these packs are releasing on March 10th in Italy does not mean that they will be available everywhere on March 10th.
It has been previously announced that the Cursed Tiki Temple pack will release on March 12th in the US.
The same press release that gave us March 12th also stated that "later this Spring" we'll be seeing Grave Clobber. Does this mean later like March 12th or does this mean later as in after March 12th?
Personally I read it as after March 12th, but I could be wrong.
Of course it is always possible that Europe could have a different release schedule than we see here in the US. Time will tell.
Dark Crystal
It looks like we'll finally be getting a Dark Creation Crystal in a Single Pack.
No word yet on which mold it will be, but I think it is highly likely that it will be the unreleased Dark Reactor Creation Crystal.
We already have the Dark Rune which is (currently) exclusive to the Dark Edition Starter Pack and the Dark Pyramid which can only be found in the 8-Pack (European exclusive) or Triple Pack #4.
However, since Activison does not differentiate between molds like we do, we won't know which Crystal we're getting until we get a box shot or someone finds one in a store.
Is that all for Wave 4?
No.
There will be other items shipped out with Wave 4, but there is a good chance that this might be the only new packs that we're getting.
Everything else will likely be replenishment stock.
We will however want to keep an eye on the other Crystals they ship as they could be molds that we haven't seen before. Hopefully we'll learn more as March gets closer.