A little bit slower this week, but we still have news to cover.
Thrillipede Update
Still nothing.
Imaginators Update
This week we got a closer look at Chopscotch thanks to Family Gamer TV who had the exclusive reveal.
We not only got a look at the HD image of the toy, but we got some fantastic gameplay.
SCL on Social Media
If you haven't already, please:
Facebook and Twitter I would consider the "most important". Through these two channels I can communicate all the latest news, sightings, and deals to you faster than any other method.
Trouble with Facebook Visibility
I know that some of you have mentioned that you don't always see my posts on Facebook.
I'm not trying to hide from you. It all has to do with Facebook's algorithm.
However, the good news is there is something you can do to have a better chance of seeing my posts.
Go to the SCL Facebook page on a desktop or laptop computer (I don't know how to do this on a mobile device).
Just under the banner, hover over the button that says "Liked".
From the dropdown menu make sure "See First" is checked.
If you're having trouble, check out 1:58 in the first video above.
Checking this option will let Facebook know that these are updates that you want to see.
So the first time you visit Facebook after I make a new post, it will be the first thing right at the top of your News Feed.
Battlecast Update
Finally, we're back to Battlecast.
Skylanders Battlecast Deals
If you collect the physical Skylanders Battlecast cards or want to start, Amazon still has some great deals.
Earlier this week the 36 Pack Booster Box dropped down below $100. It was a great price and I know a lot of you were able to scoop it up.
However, that didn't last long (less than 24 hours). The price shot up again. It's still a good deal, but not as good as it was.
In any case, the Battlecast Starter Pack is still dropping in price.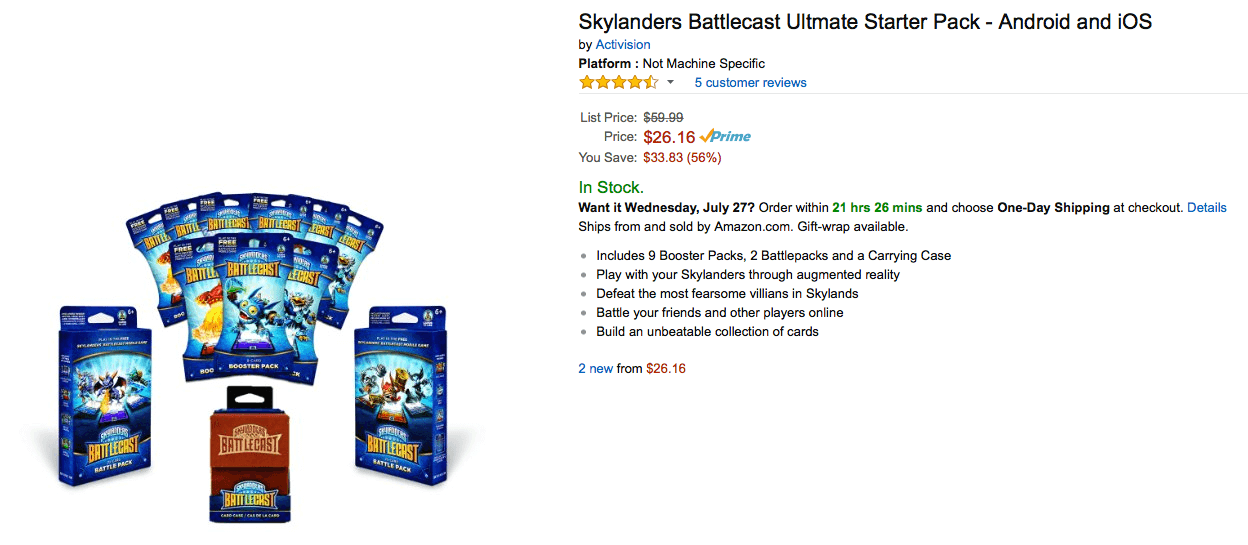 Right now this bundle is a better price-per-card value than the Booster Box ever was.
You don't have to be a Prime member to get these prices, but I don't know how long they'll last so I wouldn't wait if you're interested.
General Mills Promotion
As expected, the General Mills cereals have continued to spread throughout the week.
In addition to North Carolina, New York, Pennsylvania, and Indiana, the boxes have also been spotted in Ohio, Montana, and Wisconsin.
The cards still don't scan into the game, but that should be coming soon.
You can find my original article about these cards here.
Enjoy!