Relatively slow week for Skylanders, but there are a few items to address.
Thrillipede Update
There was a rumor back in May when Thrillipede was "officially" released that it would be a TRU timed exclusive until June 29th.
At that time I didn't put a lot of credence in that date because it was nearly two months away and that might just be the longest timed exclusive in the history of Skylanders.
But now as June 29th is just two days away and we still haven't seen any sign of Thrillipede outside of the limited TRU release, I'm thinking that the date might be more than just a rumor.
In the past week the June 29th date has come up twice more with a little supporting evidence. Still nothing official so I don't want to get your hopes up too much, but there is still hope.
Stay tuned to the SCL Facebook page and Twitter feed for all the latest info.
Skylanders Imaginators Crash Edition
This week we learned that the Crash Edition is definitely not a store exclusive. It was first listed at GameStop, then Amazon, and now Best Buy.
The Crash Edition Starter Pack will only be available for the PS3 and PS4. However, Crash will be playable across all consoles.
We currently know that the Crash Edition will contain:
The strange part is that this pack also has an MSRP of $99.99.
I know there has been some question as to where this information comes from. Well, it came directly from the Fact Sheet that was sent along with the Crash Bandicoot announcement.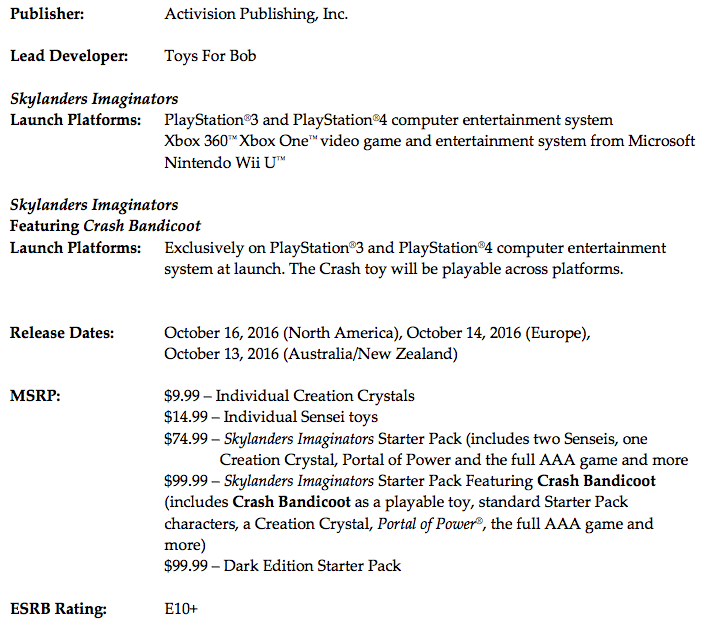 That's all we know so far.
Possible New Skylanders
Earlier this week I reported on some new methods of unlocking parts for your Imaginators and how some of those parts seemed to give us the names of two new Sensei. You can read the full article here, but I'll leave the images below.