I apologize for the delay this week, but I was hoping to have more news…
Skylanders SuperChargers Happy Meal Toys
In many recent years, Skylanders have teamed up with McDonald's to release Skylanders Happy Meal toys.
It appears as this year will be no different.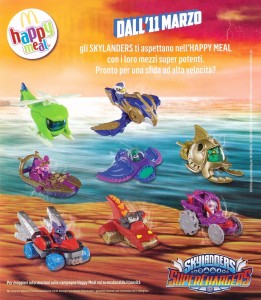 The image above is advertising the new Skylanders toys coming soon to McDonald's in Italy.
We don't currently have confirmation that these are coming to the US, but it's hard to imagine that they would ignore their largest market.
It seems that there will be a total of eight toys to collect. These include:
Hot Streak
Shark Tank
Reef Ripper
Tomb Buggy
Jet Stream
Sea Shadow
Stealth Stinger
Splatter Splasher
Each vehicle appears to come with its Signature Driver, but it does not look like they can be removed from their vehicle.