The news is back!
Thrillipede
Thrillipede has indeed made it to the US.
However, quantities are extremely limited and there are two caveats:
They can only be found at Best Buy
There is a maximum of one per store
Like I said before, I can't explain it, but this certainly intrigues me. So if you find a Thrillipede at your Best Buy (even if you don't buy it) please:
Take a picture
Let me know what state you found it in
I am very curious to see how much we get from this release.
Wave 5 Figures
Two weeks ago we got box shots of the two new Single Packs we're expecting in Wave 5.
This includes:
This week these two figures were released in the UK and Spain. Those are the only two countries I have positive reports from.
However, we do have some good news for those of you in the US.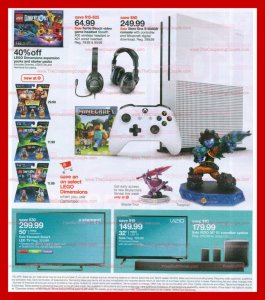 The Target ad for next week (the week of May 7th) has both Blaster-Tron and Tidepool pictured. They're not only pictured, but it states:
Get early access to new Skylanders Sensei this week only at [Target].
So keep your eyes open at Target!
This doesn't sound like the figures will be exclusive to Target, it just sounds like they are getting an early release (like we usually see at TRU).
Lost Imaginite Mines and Creation Crystals
I do not have any additional information about the Lost Imaginite Mines Level Pack (featuring Ro-Bow) or the remaining Creation Crystals at this time.
They are obviously shipping separately and as soon as I have more information I will be sure to let you know what I know.