So I decided to bring back a shortened, "mini" version of SCL News.
Basically that just means that I want to keep each episode between two and three minutes. If absolutely necessary I'll put out more than one episode in a week, but I think that will be rare.
For those of you who just like to read the blog posts, they'll still be here, but I will have the same information in video form as well for those who prefer video.
With that being said here's the first video (the text version is below):
Eon's Elite Update
As of this past Sunday, the first three Eon's Elite Skylanders should be available worldwide. In the US though these figures are still Toys R Us Exclusives. This includes:
We're still waiting on three more Eon's Elite figures:
The original press release stated that these figures would be released in December. However, I have been told that they are register locked at Toys R Us with a date of November 29th.
This leads me to believe that TRU may (once again) have an Early Release for these figures. I don't have any confirmation on this yet, but it wouldn't be that surprising.
New Chase Variant
This past Friday, Wave 3 was released in Italy and it appears that a new variant has been discovered.
In Wave 2 we found Patina High Volt. Now it appears that we have Patina Lava Lance Eruptor.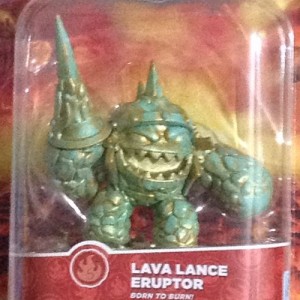 So far only one has been found so it seems a little suspicious, but then again since most of the world has not gotten their hands on Wave 3 yet I guess it makes sense.
Basically, just keep your eyes peeled whenever you do get a chance to get your hands on Wave 3.
We still do not have a solid release date for Wave 3 in the US. Typically though it starts hitting shelves a week or two before Christmas.
As soon as I have more information, I'll be sure to let you know.