It was a very busy weekend.
Black Friday Aftermath
Not everything went according to plan, but here's what we know…
Solar Flare Aurora
Solar Flare Aurora is a Target Exclusive.
It released on time and was in good supply at most locations.
Portal Owner's Pack
The Walmart Exclusive Portal Owner's Pack did release as scheduled.
It comes with: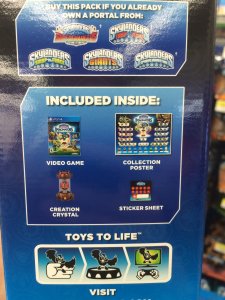 Jingle Bell Chompy Mage
Jingle Bell Chompy Mage DID NOT release on November 25th as scheduled.
This figure was absent from all stores, all weekend.
Today however, Jingle Bell Chompy Mage did start to show up at some GameStop locations. Hopefully we'll start to see it in more stores soon.
Wave 3 New Releases
While we still don't really have an official release date for Wave 3, pieces of Wave 3 have started to show up at Toys R Us (and a few other locations).
Wave 3 Single Pack Creation Crystals
The Wave 3 (W3) assortment contains 8 different Creation Crystals. However, we have seen 4 of them before in Waves 1 and 2.
The four new Creation Crystals include:
These Crystals have been spotted at many TRU locations as well as many Walmart locations.
Creation Crystal Triple Packs
In addition to the new Single Packs, Wave 3 is also bringing two new Triple Packs.
Unfortunately though each of these packs will only give you one new Creation Crystal if you have everything from Waves 1 and 2 already.
In Triple Pack #3, you'll get:
The Fire Acorn is the same Crystal that I mentioned up above in the Single Packs. So if that's all you want out of this pack, you're probably better going for the Single.
In Triple Pack #4, you'll get:
This is the first Dark Creation Crystal available outside of the Dark Edition Starter Pack (here in the US). The Dark Pyramid was also available in the 8-Pack, but that has not made it to the US yet.
The Dark Pyramid is not in a Single Pack in this Wave. I have no idea if it will ever be in a Single Pack, but I'm not counting on it.
Adventure Packs
The final Adventure Pack, Enchanted Elven Forest, has been released at Toys R Us this weekend.
This pack features:
And yes, Boom Bloom does indeed have the Life Element symbol on her base instead of the Ninja Battle Class symbol that you would expect.
I have no explanation for this, but it's that way on every figure that I've seen so far.
Wave 3 Sensei Figures
Up until this morning there was no sign of the Wave 3 Sensei figures.
However, late last night TRU updated their website with a few new listings. Then this morning regular Pit Boss went live.
As of this writing, Pit Boss is still the only Wave 3 Sensei available. I would keep an eye on the TRU website for the others to go live as well.
It seems that TRU is going to be getting all of Wave 3 before anyone else.
More Chase Variants
We've already had two Chase Variants in Skylanders Imaginators.
In Wave 1 we saw Pink Barbella.
In Wave 2 we saw Clear Starcast.
Wave 3 was released earlier in some countries and this Orange Chain Reaction has shown up in Denmark.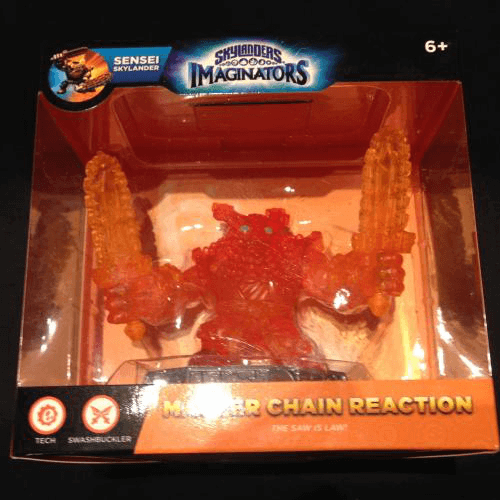 So now you know what to keep an eye out for whenever Wave 3 does come to a store near you.