We've seen a lot of new product come out this week along with hope for more in the near future, so let's dive right in…
Wave 3 Update
Wave 3 SuperChargers have been found at seemingly all Toys R Us locations in the US. Many Target stores also put them out for Black Friday. So they may have some left, but if they don't, don't worry. This was basically just the pre-release of Wave 3. There will be plenty more coming.
If you can't find them in stores yet, they are also available online. Right now they can be found on the TRU and GameStop websites.
Wave 3 Vehicles
Just like a few weeks ago the Wave 3 SuperChargers were starting to trickle into TRU stores, now the Wave 3 Vehicles are starting to do the same thing.
So keep an eye out over the next few days or weeks and you should be able to spot the vehicles soon.
Eon's Elite Update
Yesterday the final 3 Eon's Elite figures were officially released at Toys R Us.
We're still expecting these three to release at other retailers as well, but they are at TRU first.
To make things better though, TRU actually has the perfect sale going on right now. When you spend $40 you can save $20.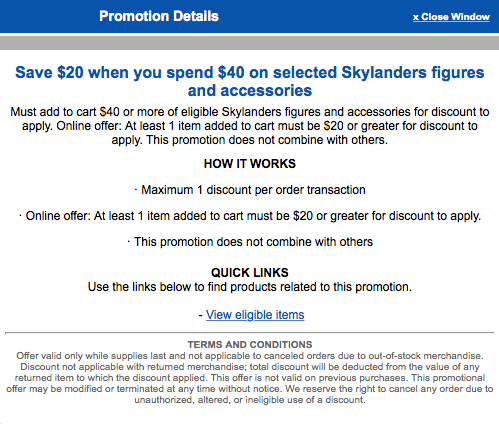 I don't know exactly how long this sale will last as I can't seem to find an expiration date, but I wouldn't wait too long. It's almost like a buy 1, get 1 free sale for Eon's Elite figures (although you will have to use multiple transactions).
This promotion is available online as well.
Nightfall At Last!
I made a big deal about this earlier this week so I won't go too in-depth here, but here's what you need to know:
GameStop
December 5th
Nightfall
Missile-Tow Dive-Clops
Buy 1, Get 1 Free
GameStop is having a lot of other great deals on December 5th as well, but I know Nightfall is going to be the highlight for most of you.
Enjoy!