So naturally the big news this week is all about the new game, Skylanders Trap Team.
While Trap Team may take the spotlight, there are still a few questions to be answered from SWAP Force. So let's see what we have this week.
———
Oftentimes if you have a question about something, you're probably not the only one.
Here at SCL I get dozens of emails each week with questions from readers like you. Even though only a few dozen take the time to write in, I am guessing that many more of you have the same questions.
So here in the SCL Q&A I hope to answer some of these questions in a more public forum so that all of you may benefit. I hope to make this a weekly post, but that all depends on you. Please keep sending me any Skylanders questions you may have. I will still reply to all of your emails, but I will also post some of the answers here.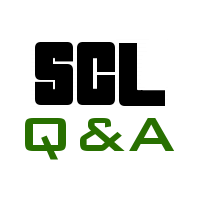 When will LightCore Bumble Blast be available?
Well, if you've been following us on Facebook you probably already know that LightCore Bumble Blast is being released early at Toys R Us this Saturday (April 26th).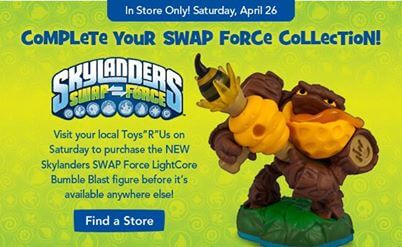 While you're at TRU you should be on the look out for a few more great deals.
For example, multiple sources have told me they're trying to blowout their stock of Scarlet Ninjini. They have been found on clearance for as little as $6.40. Now that's a great deal for an in-game variant.
When will Skylanders Trap Team be released?
The good news is that you have about six months to start saving your money. Skylanders Trap Team will be released:
October 2, 2014 (Australia)
October 5, 2014 (North America)
October 10, 2014 (Europe)
Other than the release coming about a week earlier than last year, this has become a pretty standard release schedule.
Will the Traps be sold in blind packs?
NO.
Unlike the Disney Infinity Power Discs, the STT Traps will not be sold in blind packs. They will also not be sold in conjunction with other characters.
At this time we do not know if they will come in single packs or double packs or some other number, but you will know what you're getting before you buy.
Will there be pre-order bonuses?
Most likely. With a series this big, every retailer is fighting for your business.
The only pre-order bonus I've seen announced at this point is from Target. You can get a $10 Target Gift Card when you pre-order.
If you don't care about bonuses and you're ready to pre-order now, you can use this link.