For those who were wondering where last week's Q&A went, well there wasn't one.
Last week we had tons of great news coming in from Gamescom and all of that news kept flowing in straight through the weekend. So I decided to skip the Q&A and let all the new info sink in.
Naturally though, with new information comes new questions. Let's take a look at a few of those questions…
———
Oftentimes if you have a question about something, you're probably not the only one.
Here at SCL I get dozens of emails each week with questions from readers like you. Even though only a few dozen take the time to write in, I am guessing that many more of you have the same questions.
So here in the SCL Q&A I hope to answer some of these questions in a more public forum so that all of you may benefit. I hope to make this a weekly post, but that all depends on you. Please keep sending me any Skylanders questions you may have. I will still reply to all of your emails, but I will also post some of the answers here.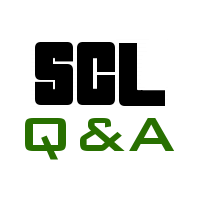 Do we know anything more about Eon's Elite?
There have been no other official announcements since the initial unveiling.
We already knew that Elite Spyro and Elite Chop Chop have been announced.
On a poster at Gamescom, Elite Trigger Happy and Elite Whirlwind were spotted.
No official release date has been announced. My theory?
I think we'll see Spyro and Chop Chop released near launch day. I think they will release the remaining six in pairs spread throughout the next 4-6 months. I think there is a good chance that they will keep the remaining four under tight wraps until late this year.
Will the old Sidekicks have the same abilities as the new Minis?
In case you missed it, this was huge news at Gamescom.
Not only are they reproducing the Spyro's Adventure Sidekicks and Giants Sidekicks, but they are adding 8 new figures. The twist here is that they are no longer Sidekicks. They have done their time and gone through extensive training at the Skylanders Academy (the hub world in Trap Team). Now they are ready to take on Kaos and all his minions on their own.
That's right. Mini Skylanders are fully playable in Skylanders Trap Team.
The best news is that your Green-Based and Orange-Based Sidekicks will function just like the new Red-Based Mini Skylanders when used in Trap Team. (In the previous games they will still just act as Sidekicks.)
Is there going to be a box to store the Traps in?
If you're looking for the Trap box seen in the Official Trap Team Trailer, you're out of luck unless you make one yourself. However, here's what we do have…
Included in the Starter Pack there is a foldable cardboard Trap holder that displays the names of all the Villains.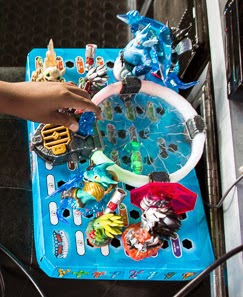 It doesn't look like Activision will be producing an actual Trap box, but we may have luck elsewhere. In the "Pop-up Shop" at Gamescom last week there was a box (made by Power A, a well-known Skylanders accessory company) that was made to fit the cardboard Trap holder.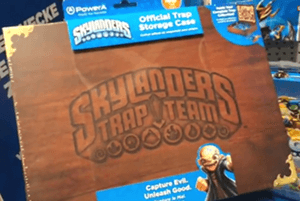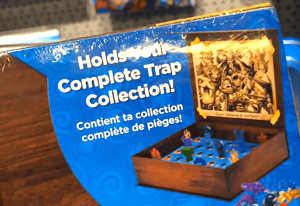 Personally, I think it looks kinda cheap. It may not be for everybody, but there will be options for keeping your Traps contained.
How many Skylanders are there?
This is a tricky question because not everyone counts figures the same way, so here's the current (as of August 22, 2014) breakdown:
Spyro's Adventure
32 Core Skylanders
4 Level Pieces
9 Magic Items
26 Variants
4 Sidekicks
75 Collectible SSA Figures
Giants
8 Giants
32 Core Skylanders
8 LightCores
4 Magic Items
37 Variants
4 Sidekicks
93 Collectible SG Figures
SWAP Force
16 Swappers
32 Core Skylanders
8 LightCores
2 Level Pieces
6 Magic Items (7 if you count the Target pre-order card for the UFO Hat)
34 Variants
98 Collectible SSF Figures
So to recap:
75 SSA
93 SG
98 SSF
For a Grand Total of 266 Collectible Figures.
We don't have final numbers on Trap Team (and they're not in stores) yet so they haven't been added to the list.