Just a little Skylanders news this week and it's something we were expecting.
So let's get right into the questions…
———
Oftentimes if you have a question about something, you're probably not the only one.
Here at SCL I get dozens of emails each week with questions from readers like you. Even though only a few dozen take the time to write in, I am guessing that many more of you have the same questions.
So here in the SCL Q&A I hope to answer some of these questions in a more public forum so that all of you may benefit. I hope to make this a weekly post, but that all depends on you. Please keep sending me any Skylanders questions you may have. I will still reply to all of your emails, but I will also post some of the answers here.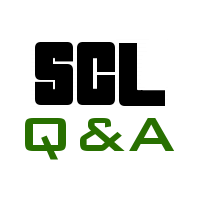 When will Freeze Blade be released?
No exact date has been set for Freeze Blade yet.
However, we do know that Nitro Freeze Blade will be available at Target on March 23rd. With this in mind, it is extremely rare that a variant version of a figure is released before the regular version. So I am expecting to see (regular) Freeze Blade around the same time.
When will Trap Shadow be released?
No exact date has been set for Trap Shadow yet.
The good news though is that it looks like we'll be seeing Trap Shadow before Doom Stone. There's a good chance that Trap Shadow will come alongside Freeze Blade. (However, there is a lot of speculation here, so this should be taken with a few grains of salt.)
What is the name of the next Skylanders game?
Unfortunately, this is one more thing that we just don't know yet.
For the past three years, Activision has always revealed the new Skylanders game at the New York Toy Fair. This year they decided to change it up.
To date nothing has been revealed about the new game. We will be eagerly awaiting any and all announcements in the coming months.
At the very latest, we should have a big announcement at the E3 Expo in June. Hopefully we'll hear something before that, but at this point, who knows? They are rewriting the rules.
I still can't find Stink Bomb at stores in my area, where can I find him?
Chasing down figures in stores can be fun, but it can also be very frustrating. So if you're still looking for Stink Bomb (and the other Wave 3 Swappers), I highly recommend shopping online.
Amazon just got in another shipment of Wave 3 Swappers. If you act quickly, you can get all of these figures at retail price!
Click here for Stink Bomb and more…
Yes, you may have to wait a few days for them to be shipped to you, but you can finally round out your collection.
———
If you have a question of your own, you can always contact me here.
For all the latest Skylanders news be sure to join us on the SCL Facebook page.