Do you like free Skylanders? Did you know we're in the middle of a giveaway?
You have until Sunday night (July 13th) to enter…here's what you need to know.
———
Oftentimes if you have a question about something, you're probably not the only one.
Here at SCL I get dozens of emails each week with questions from readers like you. Even though only a few dozen take the time to write in, I am guessing that many more of you have the same questions.
So here in the SCL Q&A I hope to answer some of these questions in a more public forum so that all of you may benefit. I hope to make this a weekly post, but that all depends on you. Please keep sending me any Skylanders questions you may have. I will still reply to all of your emails, but I will also post some of the answers here.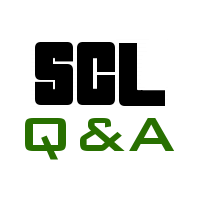 Is there a Legendary Starter Pack for Trap Team available from Toys R Us?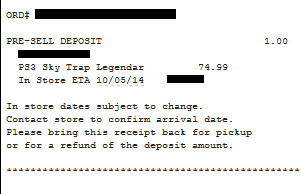 No.
Shortly after the announcement of Skylanders Trap Team anyone who pre-oreder from Toys R Us, got a receipt that looked similar to the picture on the right.
The wording on the receipt was very vague and (in my opinion) poorly chosen. They clearly emphasized the word Legendary which, as any good Skylanders fan knows, is the Toys R Us exclusive line. This led many fans to believe that there would be a special Starter Pack including exclusive figures.
It wasn't until a few weeks later, when the pre-order bonuses started to surface, that we were able to sort this out.
The wording on the receipt is simply referring to the Legendary Treasure pre-order bonus that Toys R Us is offering this year. You can read more about it and find the Official Rules in this article.
What is the best pre-order available for Trap Team?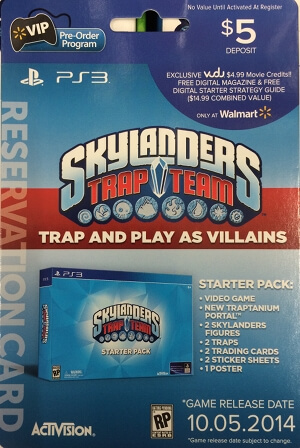 Right now though the "Best" pre-order is a matter of opinion. You're comparing apples to oranges. So here's a quick overview of the pre-order bonuses we know about. I will probably be writing up another in-depth article about this soon.
Target is giving us a Trap with an Exclusive Villain Variant (Outlaw Brawl and Chain) trapped inside.
Toys R Us is giving out Skylanders or Skylanders merchandise through the Legendary Treasure Starter Pack I addressed in the previous question.
GameStop was giving out a Single Pack of Wind-Up (from SWAP Force) on their Skylanders Day last month, but I'm not sure if this offer is still valid.
Walmart currently has an odd offering listed on their pre-order cards. First they give you a $4.99 VUDU credit (VUDU is a digital movie streaming company owned by Walmart). This is now a standard credit for any game you pre-order from Walmart, so it's not much of a bonus. Secondly, the card offers a Digital Starter Strategy Guide. Not entirely sure what that is, but that's the offer as it stands right now.
Finally, we have yet to see major offerings from Best Buy or Amazon.
Where can I find the Frito-Lay Skylanders chips so I can enter the contest?
The chips should now be available at your local grocery stores as well as major chains such as Walmart and Target.
For this particular contest though, I think buying the chips is probably a waste of money. I would highly recommend using the alternate method of entry. All you have to do is call 1-800-978-3765 for your chance to win.
Not sure what contest we're talking about? Check out this article.